Do you know what Surf-live.com is?
If you are a French computer user, there is a chance that you may find Surf-live.com, a new questionable search engine, in your browsers upon launching. This can basically happen after your install a free program in a bundled version or when you click on unsafe third-party content. If any of these may have happened recently, it is quite likely that you will also find other malware infections as well as potentially unwanted applications on board. Our researchers have categorized this threat as a browser hijacker since it can alter certain browser settings either with your knowledge or without it. As a matter of fact, hijackers usually inform you about the coming browser changes but it may be done in a way that you may overlook it. In any case, having this browser hijacker in your browsers could present to you questionable third-party content, which could cause further system security issues for you. Thus, we suggest that you remove Surf-live.com as soon as possible.
As we have already mentioned, there are no official ways for you to install this search engine. It is more likely that you download a freeware bundle from a suspicious file-sharing websites in the hope of installing a new free tool; however, instead, you may infect your computer with a bunch of malware threats, such as adware programs, Trojans, keyloggers, fake alerts, browser hijackers, as well as potentially unwanted programs. This is mostly likely when you use a shady torrent or shareware site for downloading your targeted file or software. If you only download programs and updates from official sources, you have a better chance to keep your PC clean. But, if you have installed such a package recently, it is best for you to scan your system now with a reliable malware scanner to identify all possibly harmful programs after you delete Surf-live.com from your system.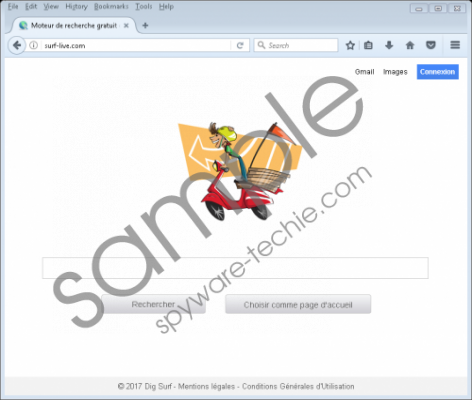 Surf-live.com screenshot
Scroll down for full removal instructions
You can also drop malicious bundles onto your machine if you click on unreliable third-party ads. It is possible to encounter such ads when your system is infected with adware programs, browser hijackers, or even potentially unwanted programs can sometimes display such ads, but you may also land on suspicious websites that provides you with that kind of content. Such websites include file-sharing, gaming, gambling, and dating pages in general. You should also be prepared that when you land on an unfamiliar website, it is more likely that you click on unsafe content as you may not know that there are fake buttons and notifications on the page. If you ever download a bundle, it is also essential to know that there is always a way out if you are careful enough.
For example, you can cancel the whole process if you are pushed to accept browser setting changes or the installation of other tools that you may not even want. It is also possible that you can actually choose which other segments of the package you want to deselect; however, these checkboxes may only be available and visible when you select the custom installation option if there is one at all. Remember, if you install such a package, chances are you will have to face multiple malware threats and it will take more than just removing Surf-live.com to entirely clean your PC.
This is a French search engine as we have already mentioned. At first sight, it looks like any normal and authentic search page. However, this browser hijacker may collect information about you and use this to customize its content for you. This alone would not be a big issue but knowing that the third parties this hijacker may promote are not all necessarily trustworthy, at least there is no guarantee for that, you could be exposed to questionable third-party ads and links if you run a web search through this search page. This means that it could be risky to engage with any content coming from this page. If you click on unsafe third-party ads or links, for example, you may open malicious pages in new tabs or directly drop further infections. If you are exposed to malicious pages, it is possible that you will fall for some dirty trick and you will be scammed to reveal your credit card details (e.g., on a fake online webshop). As you can see, apart from infecting your computer you can also lose money from your accounts if you are not careful enough but what is worse, your personally identifiable information might also be stolen and used for online fraud. Obviously, we do not claim that every web search with this search page would or could end up with these worst case scenarios. But it is still safer for you to remove Surf-live.com from your system than leaving it on.
Although you may find an uninstaller in the installed programs list in Control Panel that may remove this browser hijacker from one or some of your browsers, we have found that it does not work for all affected browsers. Therefore, we have prepared two removal instructions for you below to make sure that you eliminate this threat source without a trace. But your work is not really done after this because there could be other threats on your system, not to mention the future ones that may hit you if you do not become a more cautious web surfer. We advise you to install a reliable anti-malware program like SpyHunter to automatically protect your system against all known malware infections.
Surf-live.com removal from Windows
Windows 8, Windows 8.1, and Windows 10
Press Win+R and enter Control Panel. Click OK.
Pick Uninstall a program.
Select the uninstaller and press Uninstall.
Windows Vista and Windows 7
Access the Start menu and select Control Panel.
Go to Uninstall a program.
Select the uninstaller and press Uninstall.
Windows XP
Open the Start menu and choose Control Panel.
Navigate to Add or Remove Programs.
Select the uninstaller and press Remove.
Reset your browsers
Internet Explorer
Press Alt+T and go to Internet Options.
Select the Advanced tab and click the Reset button.
Mark the Delete personal settings checkbox and press Reset.
Click Close.
Mozilla Firefox
Press Alt+H and navigate to Troubleshooting Information.
Click Refresh Firefox at the top.
In the confirmation window, click Refresh Firefox again.
Google Chrome
Press Alt+F and choose Settings.
Scroll down and click Show advanced settings.
Scroll down and click Reset settings.
Press Reset.
In non-techie terms:
Surf-live.com is a French search engine that should not be trusted if it appears in your browsers because it may introduce you to questionable third-party content. This infection can slither onto your system without your knowledge and modify your browser settings. Therefore, our researchers have classified this threat as a browser hijacker. Unfortunately, this infection may appear on your system in a freeware bundle, which means that additional malware infections may also enter your computer when you install it. If you do not want to experience what a bunch of malicious programs can do to your system and your files, you should not hesitate to remove Surf-live.com as well as all other threats you may detect on your PC. If you prefer automated solutions, you can install reliable anti-malware software to handle all system security-related issues for you.