Do you know what Supreme Adblocker is?
Most Supreme Adblocker users are surprised by the activity of this advertisement-supported program because it enters the systems illegally, without authorization. Needless to say, it is a must to remove applications which enter the PC illegally; however, there are a few other reasons to delete Supreme Adblocker as well. First of all, this program has been created on the justplugit engine by undisclosed parties, and there is a great risk that these parties have malicious intentions. If you do not remove the adware, it is likely that you will have to worry about your virtual security, and this is something you can avoid. If the removal of adware is confusing for you, read the report and find our removal tips.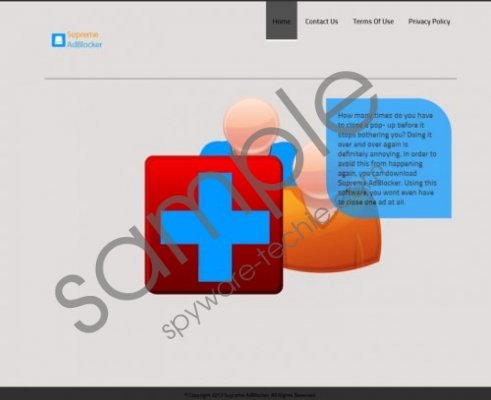 Supreme Adblocker screenshot
Scroll down for full removal instructions
Supreme Adblocker comes from the same family of adware as Yellow Adblocker, Mini Adblocker and similar disturbing browser extensions that are distributed with the assistance of third-party installers. You may find Supreme Adblocker attached to the bundles carrying other adware, undesirable programs, fake malware removers, useless media players, and other questionable software. It is important to delete all unreliable and disturbing programs; however, some computer users do not realize that malware is active at all. As mentioned before, Supreme Adblocker may slither in without permission, and if you do not locate the installed browser extension, the only indication of this adware will be the represented ads. Needless to say, it may be difficult to understand why the ads are flooding if they are not identified as Ads by Supreme Adblocker. Overall, if irritating ads keep showing up – you must scan the PC right away because you may find adware that requires removal.
You cannot trust adware that slithers in without permission because the ads that it may present could hide sponsored links to corrupted sites, represent bogus purchase offers, and push unreliable installers carrying even more undesirable software. Computer users usually choose to delete Supreme Adblocker using automatic malware removal software because this adware is quite complex and it may run alongside many other undesirable programs. If you are sure you can delete malware yourself, please start with the manual Supreme Adblocker removal instructions below.
Delete Supreme Adblocker from the PC
Delete from Windows XP:
Click the Start button on the left of the Taskbar.
Open the Control Panel menu and double-click Add or Remove Programs.
Select the undesirable application and click Remove.
Delete from Windows Vista and Windows 7:
Click the Windows button on the Taskbar.
Open the Control Panel menu and click Uninstall a program.
Right-click the application you wish to remove and select Uninstall.
Delete from Windows 8:
Right-click on the Metro-UI menu screen and select All apps.
Open the Control Panel and then click Uninstall a program.
Find the application you want to remove, right-click it and choose Uninstall.
In non-techie terms:
Supreme Adblocker is an advertisement-supported program which is likely to enable online adverts promoting the services of different parties, some of which may be unreliable. Because the application is so questionable, we recommend having it deleted right away, especially if it has been installed without authorization. Use the provided instructions to remove Supreme Adblocker from the operating system manually and install automatic malware removal software to delete the remaining malware.