Do you know what SuperCouponPro Toolbar is?
SuperCouponPro Toolbar might look like a pretty cool tool if you often shop online, and you need ways to economize on your expenses. Perhaps snatching coupon offers could help you with that, but this program is hardly the best answer to your prayers. It is a potentially unwanted program (PUP) that may have certain undesirable features. One should not ignore these features because they can be associated with computer security issues. Hence, if you happen to have this application on your computer, you should remove SuperCouponPro Toolbar at once because the program could easily lead you to various security issues.
This browser extension is compatible with Chrome, Firefox, and Internet Explorer. It means that it can affect a lot of users worldwide if it manages to enter target systems. The toolbar belongs to the Mindspark family, and so it is practically identical to Wallpapers Toolbar, FreeManualsIndex Toolbar, Filmfanatic Tollbar, and many other similar applications. Some users may argue that the Mindspark toolbars are all different, but this difference is only on the surface. Deep down, all these programs function in a similar manner, and it is clear that they come forth with the intention to make some money for their developers.
We are lucky that SuperCouponPro Toolbar and other similar extensions are not sophisticated enough to log your keystrokes and collect information about your financial transactions. Let us leave that to Trojans and other malicious infections. This browser extension is more straightforward, and it mostly depends on luck. This program builds its momentum by monitoring your online activity, and soon it knows your search patterns, your likes and preferences, and the websites you visit the most often. With that, the program can generate custom commercial content you might like, and by interacting with that content, you would help this app make a profit.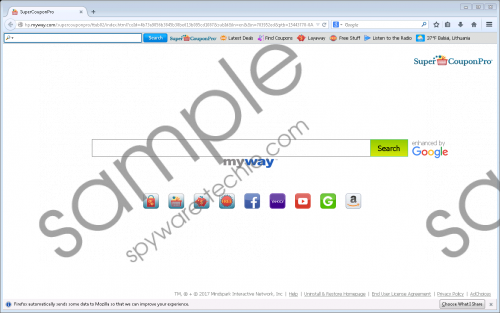 SuperCouponPro Toolbar screenshot
Scroll down for full removal instructions
The truth is that such tactic is not illegal, and there are a lot of popular websites out there that do track your activities and then promote certain products in ads that can be tailored especially for you. However, not everyone would want to make their way through annoying pop-up ads while browsing the web. Not to mention that some of those ads could be embedded with corrupted outgoing links. This happens because SuperCouponPro Toolbar may accommodate almost any type of content, as long as it gets the clicks from you. So sometimes malevolent third parties could make use of this application to promote and spread their own content.
Of course, the best way to avoid this nuisance would be avoiding the installation altogether. SuperCouponPro Toolbar has an official website via supercouponpro.com, but the most common distribution method used by the program is bundled downloads. It means that users download this toolbar in a software package with some other application they have found on a third-party website. The chance of unwanted program installation only increases if users breeze through the setup, which is usually the case. So while you did not want to add this toolbar to your browser, there is no denying that users are the ones who initiate the actual download.
When the extension is already there, you will see that it modifies your default homepage settings, and uses a third-party website to display search results. It may say that with the toolbar you can get the best offers for layaway services, freebies, online shopping coupons, and so on. But the point is that the program is intrusive, and it modifies your browser's settings without your permission. So it would be possible to say that the application also has browser hijacker's qualities, and no one would want to deal with that.
We have manual removal instructions prepared for you below this description. Please use them to remove SuperCouponPro Toolbar from your computer. After manual removal, it is strongly recommended that you run a full system scan with a licensed antispyware tool. If this program really entered your computer in a software package, then you need to detect other potential threats and remove them at once.
To protect your system from other intruders, be sure to stay away from unfamiliar file-sharing sites. Also, keep your antispyware tool updated all the time.
How to Delete SuperCouponPro Toolbar
Firefox
Press Win+R and the Run prompt will open.
Type %AppData% into the Open box. Click OK.
Navigate to Mozilla\Firefox\Profiles\[Profile]\extensions.
Remove the _jmMembers_@www.supercouponpro.com file.
Internet Explorer
Press Win+R and type Control Panel. Hit Enter.
Open Uninstall a program (Add or remove programs on Windows XP).
Uninstall SuperCouponPro Internet Explorer Homepage and New Tab.
Chrome
Press Win+R and type %LocalAppData%. Click OK.
Navigate to Google\Chrome\User Data\[Profile]\Extensions.
Remove the afdpcfhlmmojleicinofbeajmibmjfhf folder.
Open Google\Chrome\User Data\[Profile]\Local Extension Settings.
Remove the afdpcfhlmmojleicinofbeajmibmjfhf folder.
Go to Google\Chrome\User Data\[Profile]\Sync Extension Settings.
Delete the afdpcfhlmmojleicinofbeajmibmjfhf folder.
In non-techie terms:
When a program enters your computer and you had no intention of keeping it, it is necessary to remove it. The same applies to SuperCouponPro Toolbar, as well. This browser extension may not be the worst computer security threat out there, but if you fail to terminate this application immediately, in the long run, it could be exploited by cyber criminals for malware distribution. If that happens, you will have to deal with far more dangerous infections than this PUP, so delete it from your PC while you can.