Do you know what Sugabit.net is?
Sugabit.net is simply a new browser hijacker from the developers of webssearches.com and Sweet-page.com that may present to you questionable web content. Since this hijacker can infect all of the most popular browsers, including Internet Explorer, Mozilla Firefox, and Google Chrome as well, there is a good chance that you will be exposed to this search engine. This hijacker makes modifications to your browser settings by making Sugabit.net your new homepage and search engine. This way you cannot really escape the chance of being introduced to potentially unreliable web content. If this hijacker is present on your PC, it is also possible that there are other malicious software installers on board. Since you may be facing multiple security-related issues as a consequence, you should step up ASAP and act. Our researchers recommend that you remove Sugabit.net immediately if you want to avoid contact with possible cyber criminals. At the end of this report you will find our solution for this malware infection. However, we believe that it is important to understand how such browser hijackers can infect your computer so that you can be prepared to protect your PC from similar invasions.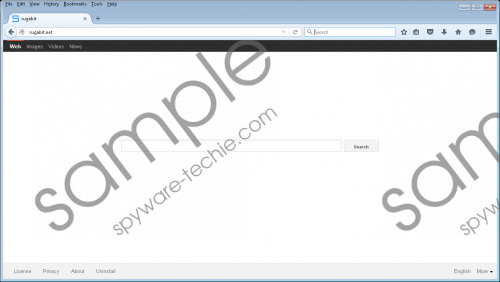 Sugabit.net screenshot
Scroll down for full removal instructions
Although this suspicious search engine claims that it "utilizes metasearch technology to compile results from many of the Web's major search properties, delivering more relevant and comprehensive results every time you search," according to our researchers, that is all just for promotion. In reality, this search engine does not even use its own results to serve your web search request. Instead, it may simply record all the keywords you use while searching the web. Since it may also be able to collect information about your online activities, a proper profile can be made in order to display customized advertisements and links to you through manipulated search results. This hijacker uses a reputable third-party search engine, bing.com, to provide you with the results. Seeing Bing results, you would most probably take everything for granted and accept them as authentic and trustworthy content. But since this browser hijacker can promote affiliated third parties, you can never know which link or ad you can actually trust. What if cyber criminals pose as third parties? What if you click on their misleading ad or link? What if you find yourself on their malicious websites while you think and believe that you can trust them? There are a number of ways in which criminals may be able to trick you either into downloading more malware programs or even into revealing your banking details. The best thing you can do to avoid all these dangerous scenarios is to delete Sugabit.net as soon as possible.
Our researchers have found that this browser hijacker is mostly spreading in the USA, Egypt, and India, but this does not mean that you are safe from it anywhere else. As a matter of fact, the Internet has no real boundaries when it comes to malware infection unless the threat is targeted at a particular group or country; even more so, since this hijacker follows the "good old" way of spreading on the web via free software bundles. Nevertheless, you can avoid downloading such infected bundles and causing multiple system security issues for your computer. All you need to do is always use reliable and reputable websites for downloading applications. It is quite easy to end up on malicious websites when you are searching the web for free stuff, including books, movies, and software. If you land on an unfamiliar website, you may be tricked into clicking on deceiving third-party ads, which may result in your infecting your computer with a package of malicious software installers. If this hijacker sneaked onto your operating system in such a bundle, you should not hesitate to delete Sugabit.net. But you should also keep in mind that you need to tackle all the infections that have found their ways to your computer because otherwise you will not be totally safe. In order to detect all present infections, we recommend that you use a free online malware scanner. Obviously, the web is full of rogue and fake tools; therefore, choose a reliable one to be on the safe side.
This browser hijacker is a persistent kind and it makes sure that you cannot easily clean it from your computer. It changes the browser shortcut Target lines, i.e., it appends this search engine to the default line in order to load it whenever you open your browsers. Therefore, even if you change the homepage settings in your browsers, this Target line modification will make sure that you will be exposed to this search engine. Although you can manually restore all your Target lines, fortunately, this hijacker has a working uninstaller that solves this issue for you. But somehow it does not seem to sort out other setting changes, so you have to take care of them manually. According to our researchers, it is best to reset all your browsers to get rid of all the leftovers. If you are not familiar with the aforementioned steps, please use our guide below as a reference. Should you need powerful protection from similar and more dangerous malware attacks, we suggest that you download and install a decent antimalware application.
Sugabit.net Removal from Windows
Windows XP
Access the Start menu and go to Control Panel.
Pick Add or Remove Programs.
Select the application and click Remove.
Windows Vista and Windows 7
Press Win+R and type in control panel. Hit Enter.
Open Control Panel and click Uninstall a program.
Select the application and click Uninstall.
Windows 8, Windows 8.1, and Windows 10
Press Win+Q and type in Uninstall a program. Hit Enter.
Select the application and click Uninstall.
Sugabit.net Removal from browsers
Mozilla Firefox
Press Alt+H and choose Troubleshooting Information.
Press Refresh Firefox and in the pop-up, click Refresh Firefox again.
Press Finish.
Google Chrome
Press Alt+F and pick Settings.
Click Show advanced settings at the bottom.
Click Reset settings at the bottom.
Click Reset.
Internet Explorer
Press Alt+T and open Internet Options.
On the Advanced tab, click Reset.
Select Delete personal settings.
Click Reset and click Close.
In non-techie terms:
Sugabit.net is a potentially harmful search engine that appears in your browsers as the new home page and default search engine when a browser hijacker enters your machine. Since this hijacker mainly travels in infected software bundles, chances are your computer has been infected by a bunch of malware threats. This means that this hijacker is only one of the security issues you may be facing right now. But, even if this is the only infection on board, you should know that it may expose you to potentially unsafe websites and content. Therefore, we suggest that first you should remove Sugabit.net and then all other potential threats as well. If you would like to detect and eliminate all the present infections automatically, we recommend that you use a trustworthy malware removal tool. A regularly updated security program can provide your PC the best protection there is.