Do you know what Striked Ransomware is?
If you got a window stating "Your Files Are Striked!" then your PC must have been infected by Striked Ransomware, a malicious program that was created with the intention of infecting your computer by stealth and then encrypting your files. Once it has encrypted them, this ransomware's developers will want you to contact them, and we think that will ask the victims to send some Bitcoins for the decryption tool. You should not trust them, so we invite you to remove this program instead of complying with the demands of cyber crooks.
According to our malware analysts, Striked Ransomware was configured to encrypt many files formats in many locations on your PC. Testing has shown that it encrypts many file formats for containing images, videos, audios, documents, file archives, and even executables. As a result, this ransomware does not allow you to access your files and run any of the encrypted programs. This ransomware generates unique encryption and decryption keys. The encryption key is stored locally while the decryption key is sent to this ransomware's server. The encrypted files are appended with a custom file extension can look like #rap@mortalkombat.top#id#1488824753. The first part is the email address that you are expected to message, and the ID number is unique for each user, and you may have to send it via email to receive the correct decryption key.
Once this ransomware has finished encrypting your files it will drop a ransom note named "README_DECRYPT.html" on the desktop if you open it, then you will be greeted with green text on a black background that says that you need to send an email to torap@mortalkombat.top to receive the decryption key. Oddly enough, the note says nothing about paying money, but our researchers say that the developers may demand money in their reply to you. Once thing is certain — they did not create this program only to hand out decryption programs for free. You should not comply with their demands because they may not keep their word and send you the decryptor. Now let us take a look at how this program is being distributed.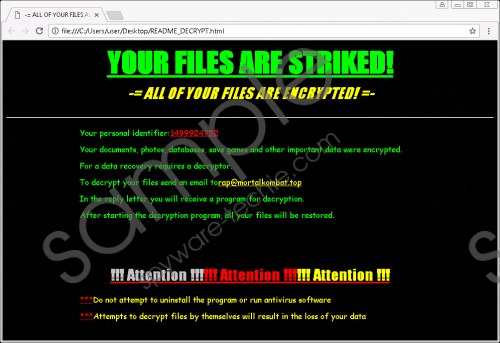 Striked Ransomware screenshot
Scroll down for full removal instructions
Our malware analysts say that this particular application is being circulated using malicious tactics. Apparently, its developers have set up a dedicated email server that sends fictitious emails to unsuspecting users in order to trick them into opening an attached file that is configured to infect their computers with Striked Ransomware. The emails can be disguised as tax return forms, business-related correspondence, and so on. The malicious file may pose as an MS Word or PDF document with important information, but it is an executable file that, once run, will start encrypting your files.
Therefore, you should exercise caution when opening emails from unknown addresses because your PC might end up infected with ransomware. Having an anti-malware program is also a good idea because it can stop Striked Ransomware dead in its tracks. Without a doubt, this ransomware's developers main business and if it manages to encrypt your files, then there is almost nothing you can do. Of course, you can try paying the ransom, but is it worth it? Your files might not be worth the thousands of dollars that this ransomware's creators ask. You can remove Striked Ransomware using an antimalware-program called SpyHunter to detect the malicious file, and then go to the location of the file and delete it manually.
How to detect and delete this ransomware
Visit http://www.spyware-techie.com/download-sph
Download SpyHunter-Installer.exe and install it.
Run it.
Click Scan Computer Now!
Save the file path of the malware from the scan results.
Press Win+E keys.
Type the file path of the malware in File Explorer's address box.
Press Enter.
Locate and right-click the malicious files and click Delete.
Empty the Recycle Bin.
In non-techie terms:
Striked Ransomware is one serious computer infection that can encrypt all of your files including files of programs and cause them to crash. Once the encryption is complete, it will drop a ransom not asking you to contact the developers via email. If you do, then they will most likely demand money for a decryption key. However, you may not keep their word and send you the key once you have paid, so you should consider removing this program.