Do you know what StreamingWhereTV is?
It is possible that you are surprised to find StreamingWhereTV in your Google Chrome browser after installing free software on your computer. In all fairness, we must mention that it is possible to download and install this application through official channels but our experience and research also indicate that it is more likely that it sneaks onto your system in questionable ways. The worst in all this is that it is possible to infect your computer with several malicious software installers in one go. Thus, you may find a couple of more malware infections on your computer if you see this search page coming up as your new home page and new tab page in your Chrome browser. Our researchers decided to label this threat as a browser hijacker even though it is not necessary that it modifies your browser settings without your knowledge. Usually, the infections belonging to this category informs you about the browser setting changes but this could be done in a misleading or deceiving manner and this is why most users do not realize it and do not recall installing such a tool. All in all, we advise you to remove StreamingWhereTV from your browser if your virtual security is important to you.
There are basically two ways for you to install this questionable application. First, you might do this knowingly and on purpose by visiting either the promotional webpage at startstreaming.net or the Chrome web store at chrome.google.com/webstore/detail/streamingwheretv/ceopeopklkjjgehbmjdohddokcencgoi. However, statistics show that merely over three thousand computer users have installed this browser extension through these channels. Although it seems that this browser hijacker is mainly spreading in the US, you can infect your machine with it anywhere around the world since it is also spreading in free software bundles. This also means that if you install this version, this hijacker will be only one of several malware infections threatening your system.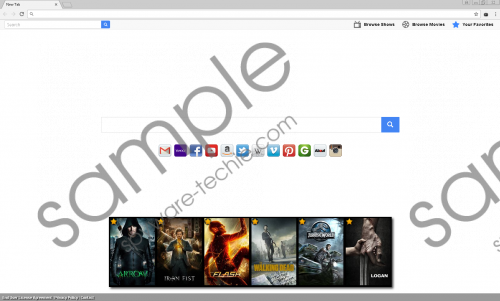 StreamingWhereTV screenshot
Scroll down for full removal instructions
It is important to understand that most of the time you are the one responsible for letting such threats onto your computer. It can happen without your realizing it and this is why you cannot usually remember installing it. Generally, it is enough for you to click on the wrong web content like an advertisement and you could drop this browser hijacker right away or what is worse, a whole malicious software package. For instance, you might be shown pop-up ads claiming to be software updates or necessary plugin installers; however, when you click on these, you may drop a package full of malware infections. Another usual way to download malicious bundles is to visit shady file-sharing websites in an attempt to download free files.
Torrent and shareware pages are probably the most questionable ones that you should only trust if reputable. We suggest that you only use official websites whenever you want to install software or updates to be on the safe side. These and other pages (online gaming, gambling, and porn sites) also contain an annoying number of third-party advertising, such as banner and pop-up ads that may drop infections and bundles when clicked on. Some of these ads may not even look like a normal commercial but instead, pose as buttons, links, or other content seemingly belonging to the page. If you do not recall installing this browser hijacker, we highly recommend that you delete StreamingWhereTV and look for a trustworthy malware scanner on the net to be able to detect all other possibly harmful applications as well.
Once you install this browser extension, your home page and new tab page becomes home.startstreaming.net, which is equipped with a fake toolbar and web search feature. This toolbar contains a search tool on the left and three quick links on the right related to TV shows and movies. Our tests indicate however that you cannot really access streaming content but instead, you are shown general information in an pop-up about the chosen show or movie. This is a useless application because you can simply bookmark any page in your browsers that you prefer to access easily from your bookmarks bar. There are also a number of thumbnails below the main search field redirecting to the most popular sites, including Facebook, YouTube, and Amazon. Below this part, there is a panel for your favorite shows that you can reach quickly through these customized easy-access links.
But we do not recommend that you use this tool at all since its search engine could be unreliable. Even if you are redirected to a Google search results page, your virtual security could be in danger since you may be presented with altered search results. This browser hijacker may also gather information about you and your online activities to serve you with customized content. However, this can end badly for you if cyber criminals manage to display content through this hijacker, including third-party ads and links. Clicking on these could infect your computer with further malware threats or take you to fake websites run by crooks. The latter is certainly the worse case because you could be scammed and lose money. Hopefully, you see now more clearly why we say that you should delete StreamingWhereTV from your computer.
You can choose to reset your Google Chrome browser if you do not mind losing your preferred settings and extensions you have installed. This way you would also eliminate other questionable hijackers, ad-supported extensions, and bad toolbars. Our research shows that you may also be able to remove StreamingWhereTV by simply deleting the extension. If you do not know how to do this, you can use our guide below as a reference. Keep in mind that this will not make your computer secure since it is quite likely that there are other threats hiding on your system. If taking care of them manually is out of the question for you, we suggest that you find yourself a decent malware removal application, such as SpyHunter. If you keep this security software always updated, you can give your PC the best protection it may need.
Remove StreamingWhereTV from your browser
Google Chrome
Tap Alt+F and go to More tools.
Remove the unwanted extension by clicking on the trash can icon.
In the confirmation window, click Remove.
In non-techie terms:
StreamingWhereTV is a relatively new Google Chrome browser extension that might put your virtual security at risk by introducing you to questionable third-party content. As its name suggests, this tool claims to offer you access to streaming TV shows and movies; however, you would be disappointed to find out that this function is not really what it seems to be. In fact, this is a totally useless browser hijacker that also provides you with an unreliable search engine that could introduce you to search results that may include unsafe sponsored links and third-party advertisements. This hijacker may also enter your system along with other malware infections; therefore, it is important that you make sure that after you remove StreamingWhereTV, you also identify all other malware threats and take care of them, too. If you cannot do this manually, we advise you to use a reliable anti-malware program.