Do you know what Startup Maximizer is?
Startup Maximizer is one of three applications developed by Solid Tech whose reliability may not be as solid as its name tries to suggest. As a matter of fact, our researchers have found worrisome factors surrounding this software; therefore, they have classified it as a PUP, i.e., a potentially unwanted program. This simply means that this program is not a malicious threat that can directly endanger your operating system or your files. Nevertheless, it can still cause certain security issues indirectly. A lot of users take PUPs lightly usually. In fact, there may be no computer in the world that has never been "visited" by at least one PUP in its life. We certainly believe that you should remove Startup Maximizer and we will tell you exactly why we think this way. For more information, please continue reading.
There are basically two main channels through which you can download this application: the official and the unofficial. The former can be done through the promotional website, solidtechies.com. This website makes you feel like it is more about trying to sell you "unlimited" technical support for your PC than selling the programs developed by the company. It is quite possible that these three applications (Privacy Maximizer, Driver Maximizer, and Startup Maximizer) have only been created to set up a stage for a typical technical support scam. As a matter of fact, this hunch is confirmed by the user reports you may find on the net if you run a web search on the provided "hot" number: 1-866-682-0647. Users claim that it took them a long call to actually activate the product after buying it since the supposed technician wanted to sell them services for hundreds of dollars. And when it comes to tricking customers, these people do have a way or two to convince you how much you need a totally unnecessary technical service or software.
Another red flag is raised when you find out that this PUP also travels the web in malicious freeware bundles. This is very bad news since you can infect your PC with a number of threats in one single go if you are not cautious enough. If there is at least one adware program hiding on your system, it is possible that you are exposed to unsafe third-party ads while you are browsing the net. Clicking on such an ad (pop-up or banner) can drop you an infected bundle that contains Startup Maximizer among malware infections. You can infect your computer the same way if you land on shady file-sharing or gaming websites. These pages display a big number of misleading third-party ads that can be just as corrupt as the ones generated by adware programs. It is clear that you need to stay away from such sites and clicking on ads if you want to prevent infections from entering your computer. However, if the damage is done, you should not hesitate to detect all possibly harmful applications after you delete Startup Maximizer.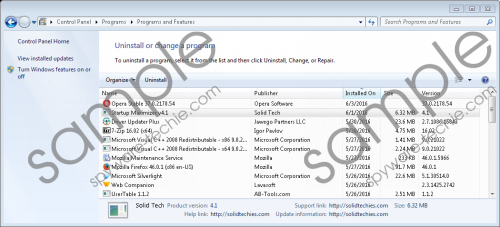 Startup Maximizer screenshot
Scroll down for full removal instructions
"Startup Maximizer will speed up the start up, shutdown, browsers, software and system functions than never before" is what you can read on the download page of the official site. Our researchers have found that this application does not do too much if you use the free version. In fact, the user interface looks very primitive and basic. It seems that anytime you run the system scan, this PUP can find thousands of errors to fix. It looks like this software can only find useless temporary files and empty Windows Registry entries. Removing these will not really speed up your computer or do much. This kind of scan is only good enough to mislead inexperienced users to want to buy the full version for $29.95; and that is only for a one-year license. Users report that they felt being scammed when they had to contact the provided telephone number because they were offered all kinds of discounts and special deals to fix their alleged system issues. But even after paying a high price, their computer did not become any faster as was promised. We believe that there are much better applications out there; yet, the most important is that you find a reliable product even if you have to pay for it a decent price. We advise you to remove Startup Maximizer since we have found it a questionable application.
The only good bit of news about this useless PUP is that it is really easy to get rid of it. Locate its uninstaller in Control Panel and run it; that is all. If you are unfamiliar with this process, please follow our instructions below. If you are interested in eliminating Startup Maximizer manually, we have also prepared a manual guide for you. Keep in mind that this involves modifying your Windows Registry, which may have its own risks. Only go for this option if you know what you are doing. Protecting your virtual world should be your priority if you want to use your computer safely. Therefore, we suggest that you employ an up-to-date anti-malware tool to take care of all existing malware threats.
Remove Startup Maximizer from Windows
Windows XP
Access the Start menu and open Control Panel.
Click Add or Remove Programs.
Select the application and click Remove.
Windows Vista/Windows 7
Press Win+R and enter Control Panel. Click OK.
Access Uninstall a program.
Select the application and click Uninstall.
Windows 8/Windows 8.1/Windows 10
Press Win+X and choose Programs and Features.
Select the application and click Uninstall.
Manual Guide
Tap Win+Q and enter regedit. Tap the Enter key.
Delete the following registry value names:
HKLM\SOFTWARE\Wow6432Node\Startup Maximizer (64-bit)
HKLM\SOFTWARE\Wow6432Node\Microsoft\Windows\CurrentVersion\Uninstall\Startup Maximizer_is1 (64-bit)
HKLM\SOFTWARE\Startup Maximizer
Close the registry editor.
Tap Win+E to open Windows File Explorer.
Delete the following folders and tasks:
%ProgramFiles(x86)%\Startup Maximizer (64-bit)
%ProgramFiles%\Startup Maximizer
%AppData%\Startup Maximizer
%WINDIR%\System32\Tasks > Startup Maximizer Schedule
%WINDIR%\Tasks > Startup Maximizer Schedule.job
Empty the Recycle Bin and reboot your PC.
In non-techie terms:
Startup Maximizer is a questionable application that might simply serve as a gateway to a technical support scam. Our researchers have categorized this threat as a potentially unwanted program since it does not really mean direct danger to your computer's health and security. Nevertheless, it is possible that this PUP comes on board alongside malicious software installers that could harm your system and your privacy as well by exposing you to unreliable web content as well as cyber criminals. Since we have found this application unreliable and quite useless, we suggest that you do not leave it on your computer if you do not want more security-related issues. It is up to you if you want to remove Startup Maximizer or not but you should definitely run a malware scanner to find out about the rest of the threats. If you want to make sure that your PC is well-protected, we advise you to install a decent malware removal program.