Do you know what Startsear.info is?
If you have discovered Startsear.info search engine appearing on your screen whenever you try to browse the web, it is likely that your IE, Firefox or Chrome browsers have been corrupted by a malicious hijacker. The clandestine program may interrupt your browsing sessions without any authorization and act as a legitimate search engine. Needless to say, you should not trust the website or any of the promoted services. As a matter of fact, you need to remove Startsear.info redirect virus from your operating system and you should do this as soon as possible.
As mentioned, the suspicious Startsear.info acts as a search engine. To attract users, the search engine changes its background whenever you refresh the page. What is more, it provides you with easy-access links to Google, YouTube, Facebook, Yahoo, MSN, Ask, Twitter, Apple, MySpace and Reddit services. Even though the online ads presented around the search box do not raise trust, the search engine itself appears to be powered by Google. Well, in reality, this search engine is completely legitimate and may provide you with trustworthy search results. Regardless, if your home page or search engine have been switched to Startsear.info without any of your consent and the site keeps reappearing whenever you browse the web, it is possible that malicious schemers have employed the seemingly reliable search engine for malignant purposes.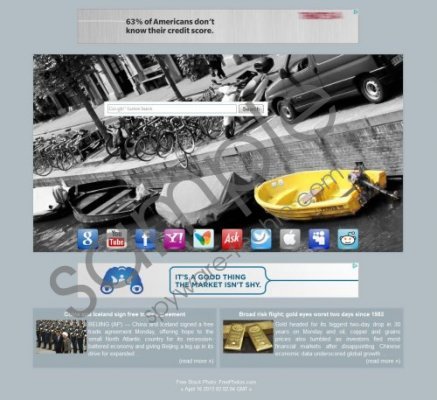 Startsear.info screenshot
Scroll down for full removal instructions
If you do not want your browsing sessions interrupted by unauthorized redirecting or you do not wish your browsing habits recorded by unfamiliar, potentially mischievous tracking cookies, you certainly need to remove Startsear.info browser hijacker. It is strongly recommended to use authentic security tools which could delete the infection automatically. Once this task is complete – follow the instructions below to change your home page and search engine.
How to remove Startsear.info from browsers?
Remove from Google Chrome:
Open the browser and simultaneously tap Alt+F.
Select Settings and move to On Startup.
Mark Open a specific page or set of pages, click Set pages, remove the provided URL and click OK.
Under Search select a new search provider from the drop-down menu and click Manage search engines.
Click X to remove the undesirable search provider. Click OK.
Remove from Internet Explorer:
Simultaneously tap Alt+T and click Manage Add-ons.
From the menu on the left select Search Providers.
Select the undesirable search provider and click Remove. Click Close.
Now tap Alt+T once more and select Internet Options.
Click on the General tab and change/delete the URL under Home Page. Click OK.
Remove from Mozilla Firefox:
Launch the browser and move to the top right-corner of the page.
Click the icon on the left of the search box and select Manage search engines.
Remove the undesirable search provider and click OK.
Simultaneously tap Alt+T and click Options.
Click on the General tab, change the Home Page and click OK.
In non-techie terms:
Startsear.info is an authentic search engine which may be used by schemers to perform illegal browser hijacker activities. If you have noticed any unauthorized actions – scan the system and remove the potentially running infection. We suggest installing SpyHunter to detect and delete all running threats.
Aliases: Startsear search.