Do you know what Startpins Redirect is?
Startpins Redirect is a term to refer to the website which is set as a home page after a computer infection gets to the system. It means that instead of the website that you see whenever you open the browser you will find startpins.com. This website is a social networking websites where its users upload and share their various images.
If you do not change your home page but find it changed for you, note that you should take immediate actions to change the settings. Startpins Redirect also provides a search engine, which you should not use so as not to get redirected to malicious websites. If, for example, you come across some sponsored websites, there is a possibility that they are irrelevant to your search keywords. Moreover, note that you may be provided with advertising websites, which we recommend to ignore. In order to prevent redirection to insecure websites which may be used for spreading malware, you should remove Startpins Redirect as soon as you can.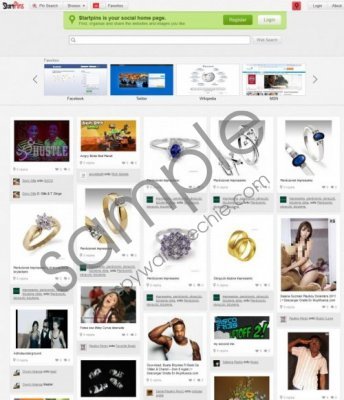 Startpins Redirect screenshot
Scroll down for full removal instructions
The easiest way to delete Startpins Redirect is to install a spyware removal tool, which will eliminate every single malicious component that has cause malfunctions of your Internet Explorer, Google Chrome or Mozilla Firefox. You can also try to change the settings manually; however, even if you succeed in removing the so-called hijacker, it is still advisable to scan the PC in order to determine what harmful files and processes are present within the system.
How to remove Startpins Redirect
Internet Explorer
Open the browser.
Press and hold down the Alt key and then press T.
Select Internet Options.
Click on the Advanced tab.
Click on the Reset button.
When a new window pops up, click on Reset and then select Close.
Mozilla Firefox
Open the browser.
Press and hold the Alt key and press H.
Select Troubleshooting Information.
Click on Reset Firefox.
Again select Reset Firefox and then click on Finish to end the procedure.
Google Chrome
Open the browser.
Press and hold down the Alt key and then press the F key.
Select Settings.
In the On start section, click on Set pages and change the startup page.
To change the search engine, move down to the Search section and click on Manage search engines.
Remove the unwanted search provider and add a new one.
In non-techie terms:
If the foregoing instructions have not had any positive effect on your browsers, do not hesitate and install a reliable anti-spyware tool which will remove Startpins Redirect for you.
Aliases: Startpins.com.