Do you know what Startme.today is?
If you notice that Startme.today, a new search engine, shows up as your home page, new tab page, and default search provider, you should know that your computer could be infected with malware. Of course, it is also possible that you simply get redirected to this URL by clicking on the wrong content. This search engine seems to be all fine and legitimate, and it also seems to provide you with real and reliable search results. Still, our researchers have a serious issue with it: This search engine does not disclose any legal document, such as Terms of Use and Privacy Policy, and this definitely raises the red flag on this web search service. The presence of this search engine in your browsers may signal the presence of malware infections on your computer, which could cause multiple system security threats. This is why our researchers suggest that you remove Startme.today right now along with all possibly harmful programs as well. Please read our full report on this search engine to understand more about how it may end up on your PC and how you can try to avoid other threats to sneak onto your computer.
Unfortunately, it is quite easy to allow such a search engine on board either knowingly with permission or without it. One possible scenario is that you click on a questionable third-party advertisement or a corrupted link, and you get redirected to this search engine site. In this case, you might be lucky and your PC may not be infected with malware. However, such an advertisement or link can be displayed basically in two ways. First, you can be introduced to unsafe content when you land on suspicious websites associated with gaming, betting, dating, file sharing, and porn. These are the usual sites that mainly host questionable and potentially harmful third-party content. You should stay away from these because apart from getting redirected to malicious pages, you could also drop freeware bundles filled with malware threats. If you simply clicked on an ad or link on a shady page and ended upon this search engine page, you can easily delete Startme.today from your system by closing your browser. Of course, it does not necessarily mean that your PC is all clean.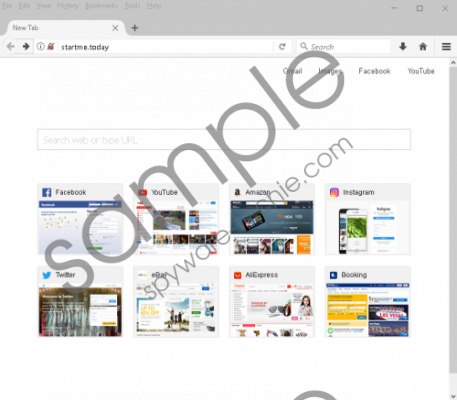 Startme.today screenshot
Scroll down for full removal instructions
Second, it is also possible that you install it via a freeware bundle. As we have mentioned, you can drop one while visiting suspicious websites and clicking on unsafe content. This also includes when you download free software from shady file-sharing sites, such as torrent and freeware pages. Such pages tend to promote malicious third-party installers that can bundle several malware infections and potentially unwanted programs alongside legitimate free software. Yet another version is that your computer was previously infected with adware programs or browser hijackers and this is how you can be presented with unsafe web content. In any case, we recommend that you run a reliable malware scanner on your system after you delete Startme.today.
This search engine appeared on the web along with a couple of other identical ones, including Startme.online. The truth is that this search engine may totally trick you into believing that nothing has actually changed regarding your browser settings; however, it installs itself as your home page, default search provider, and maybe as your new tab as well. This search engine may appear in three of your major browsers, including Mozilla Firefox, Internet Explorer, and Google Chrome. It seems that for the time being India and the UK are the two main targets but you can probably notice this search engine anywhere else. Right now it seems that this search engine simply shows you legitimate Google search results by way of redirection. However, there is an unfortunate potential in this search engine. And, it is mainly indicated by the fact that it does not share any legal documents; no EULA, Terms of Use, or Privacy Policy either, not to mention the usual "Contact" link. This could also mean that this search engine collects information about you without your permission or knowledge. This information might be shared with or sold to potentially unreliable third parties. This could lead to customized content in your search results in the future. But then again, these are only our assumptions based on our experience. We recommend that you remove Startme.today as soon as possible.
We have found that it is possible that this search engine modifies your Target lines in your browsers' shortcuts; therefore, it is a logical first step to check whether there has been anything related to this search engine added to the Target line. If so, you need to restore it. After you are done with that, you can reset your browsers. Please follow the instructions we have prepared for you below this article. If you want to be able to defend your PC against all known threats, you may want to install a reliable anti-malware program like SpyHunter.
Restore your Target lines
Right-click on your browser shortcut on your desktop.
Open Properties.
Select the General tab.
Tick the Read-only checkbox and select the Shortcut tab.
Make sure that your Target line only contains the location of your browser and nothing else after the quotes. Press OK.
Right-click on the shortcut on your Taskbar to display the menu.
Right-click on the browser name option at the bottom.
Repeat steps 2 to 5 to restore the Target line.
Remove Startme.today from browsers
Mozilla Firefox
Tap Alt+H and select Troubleshooting Information.
Click Refresh Firefox and click Refresh Firefox in the pop-up.
Google Chrome
Tap Alt+F and choose Settings.
Click Advanced at the bottom.
Click Reset at the bottom.
In the confirmation window, click Reset.
Internet Explorer
Tap Alt+T and open Internet Options.
Select the Advanced tab and press Reset.
Mark the Delete personal settings checkbox.
Press Reset and Press Close.
In non-techie terms:
Startme.today can appear in your browsers as your new home page, new tab page, and default search provider after it sneaks onto your computer in a freeware bundle or you click on an unreliable link or third-party advertisement while browser the web. This search engine looks like any other legitimate one; therefore, it would not raise any suspicion for the untrained eye. However, this search page does not have shared legal documents and contact possibility either. This alone can make this search engine a worrisome one since you no information about it or its creators and what third parties may be involved or promoted by this service. Right now it seems that this search engine uses legitimate Google search results by redirecting you. Still, our researchers say that you should be careful around this search engine because anything can change in the future and you might be introduced to questionable ads and sponsored links on modified search results pages. This is why we suggest that you remove Startme.today from your computer as soon as possible. If you need help with this or with keeping your PC clean and safe, we advise you to install a trustworthy anti-malware program.