Do you know what Startab.me is?
If you have downloaded the Startab.me extension you must be greeted with the New Tab page that represents a search tool with the same name every time you launch Google Chrome. Some users rush to call this search provider a browser hijacker, but you should use this label only in those cases when your browser is corrupted without your notice and when you are forced into modifying homepage and search provider settings. Although it might seem as if this search tool corrupts your homepage, in reality, it simply sets New Tab to open on startup instead of your regular homepage. As soon as you delete Startab.me extension from your Chrome browser, your start page should go back to normal. Note that you might also need to remove the unwanted search provider. Although it does not replace your default search provider, it appears in the list, and we advise erasing it.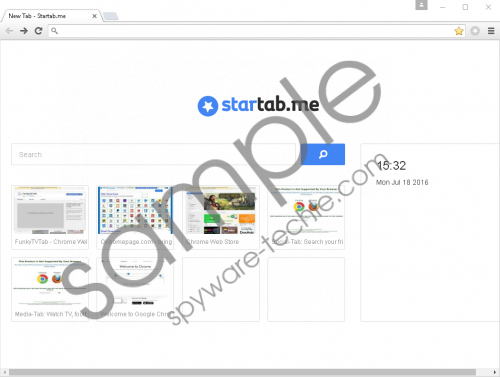 Startab.me screenshot
Scroll down for full removal instructions
How did you install Startab.me? This suspicious extension/search tool is officially presented via the Chrome web store, but the installer is extremely suspicious because it is not supported by any useful information. Only when you click the "Add to Chrome" button, you are introduced to these statements regarding the add-on's activity.
Read and change your data on ajax.googleapis.com and clients1.google.com
Read your browsing history
Change your start page to: startab.me/
The last statement indicates that you are warned about the modification to your start page before installing the suspicious extension. The first statement points to the programming of the app, and this information is of no use to the user. When it comes to the section suggesting that this software reads browsing history, we are not surprised at all. If you have checked the Privacy Policy available at startab.me/install/privacy.html, you know that this software records information to learn more about you. Although it is suggested that the main reason for collecting data is to provide you with more beneficial services, it is more likely that it serves the second purpose, which is to showcase more relevant advertisements. Although it is unlikely that this program advertises its own services, it could earn money by promoting the ads created by third-party partners. Whether or not these partners are trustworthy is a mystery, but you should not just assume that they are reliable. In fact, because they are so mysterious, we cannot classify Startab.me as a transparent program.
Our research has revealed that this suspicious software could also be introduced to you via software bundles that might be operated by unfamiliar installers. Do you know what the problem with unfamiliar installers is? Well, we do not know their intentions, and we do not know which parties can use it to spread suspicious programs. Unfortunately, there are many malicious installers that spread dangerous infections, and they often employ attractive programs to conceal the remaining threats. Although it is unlikely that many users would be attracted to Startab.me, this app could hide behind much more appealing software. If additional software was installed, examine it using a trusted malware scanner just to make sure that it does not require removal.
You can remove Startab.me manually, and the instructions below were created to make it easier for you to perform this operation successfully. Once you complete this task, scan your operating system again. Even if other threats are not present, you want to check if there are no leftovers of the suspicious search engine or the extension. For example, you might find that you have to erase unreliable tracking cookies, which are most likely to enter your operating system when you interact with the unreliable ads. Once your PC is clean, we encourage you to strengthen your virtual security to keep unreliable, suspicious programs away from your PC in the future.
Delete Startab.me from Google Chrome
Launch Chrome and tap Alt+F keys to open the menu on your right.
Select More tools and click Extensions, or enter chrome://extensions/ into the address bar.
Click the trash button next to the unwanted add-on and choose Remove.
Enter chrome://settings/searchEngines into the address bar.
Move over the unwanted search provider, click the X on this URL, and choose Done.
In non-techie terms:
If Startab.me has taken over your browsers without any warning, you have the right to call it a hijacker, but it is most likely that this search tool was installed onto your Chrome browser with your permission. Nevertheless, if you do not want it tracking information about you or introducing you to ads, we suggest removing it ASAP. You can get rid of this strange search provider by eliminating the extension, as shown in the instructions below. Although it is highly unlikely that you will have any problems erasing this software, you can always start a discussion below if any problems arise.