Do you know what Start.prss.to is?
Just one look at Start.prss.to should be enough for you to tell that this is a search engine. However, when this domain suddenly pops up on your browser, you probably get perplexed, especially if you did not enter it into your address bar manually. Thus, it clearly shows that this search engine happens to have browser hijacker qualities. Or it is used as a browser hijacker by a third party. Either way, it is necessary to remove Start.prss.to from your browser and your computer, thus ensuring that your system remains safe and clean.
Sometimes it is hard to determine whether we are dealing with severe computer infections, or if those programs are just potentially unwanted apps that can be removed without any difficulties. This search engine can actually be found on the Chrome Web Store, and with that, we can assume that this application is only compatible with the Chrome browser. What's more, the program's creators try to make it look like a legitimate search engine that can enhance your web search experience. Needless to say, this product is very far from being your next best friend, and there are various security-related issues that should be taken into consideration as well.
Here you might say that you did not install Start.prss.to on your browser, and you do not remember seeing anything like it before. But that can be easily explained, too. The point is that such search engines, adware, and freeware applications often have more than just want to enter target computers. Thus, it would not be surprising if Start.prss.to came bundled with other software. For instance, it is possible to download a software bundle when you browse file-sharing websites. If you do not check all the steps in the installation wizard, it is even more likely that you add this search engine to your browser unawares.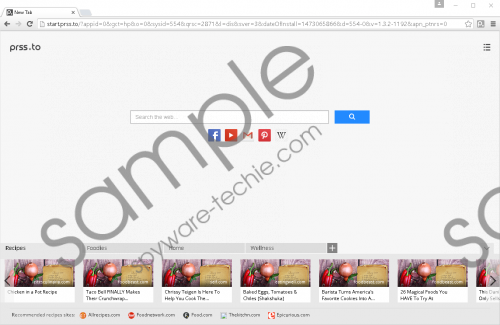 Start.prss.to screenshot
Scroll down for full removal instructions
Now, as far as the functionality of the search engine is concerned, Start.prss.to is a combo package together with the Prss.to extension. This extension should help you reach "the content you love from your favorite websites. Find up to date news stories waiting for you." What's more, the promotional tagline goes to say that "with Prss.to you will always be up to date with the latest content," and that with this extension "you can enjoy the best of your favorite websites all in one place." Have you noticed anything odd about this? Don't you think all the lines sound some similar?
They actually do. Because there is nothing real or substantial this application can help you with. Instead, the extension and the Start.prss.to may collect data on what websites you visit. This data can be stored and then shared with unreliable third parties. Of course, for the most part, this will be done having particular monetary goals in mind. Nevertheless, sometimes such search engines can be used for malware promotion and distribution, so you need to take all the potential risks into consideration, and remove Start.prss.to from the system right now.
It is not complicated to delete this product because you can do that via the extensions menu. However, let us not forget that this search engine might have arrived at your system in a software bundle. If that is really the case, then you are likely to have many other unwanted applications, waiting to be removed for good. If you open your Control Panel, and you cannot tell which programs should be terminated, you should acquire a powerful computer security application. A reliable security tool of your choice will always help you ensure that no dangerous programs threaten your system.
So when you delete Start.prss.to, scan your PC with the security tool to find all the additional system threats. Afterwards, remove them automatically. Aside from investing in security software, it would also be important to employ safe web browsing habits. That is to say, try staying away from unfamiliar websites that are full of random and annoying pop-ups. Before you download programs from file-sharing sites, be sure to check if the program you want has an official website. If it does, download it from there. There are also many other basic secure web browsing points, and if you want to find out more, please leave us a comment below.
How to Remove Start.prss.to
Open the Chrome browser.
Press Alt+F and click More tools.
Go to Extensions and delete Prss.to.
In non-techie terms:
Start.prss.to will look like a decent search engine, but it is not something you should tolerate on your computer. Please remove this program and everything associated from your computer immediately. If you require professional assistance, do not hesitate to contact us. Also, do not forget that investing in a powerful security application will always guard your PC against unwanted intruders. It is your choice.