Do you know what Stampado Ransomware is?
Researchers are still uncertain how Stampado Ransomware is distributed, but it could be that the malware is spread in a few different ways. It is possible due to the fact that the malicious program's creators are selling it on the Internet. Thus, whoever buys it, can use their own methods to distribute the infection or customize it. If the malware managed to settle in your system and encrypted all personal data, we advise you delete the program. In a situation as this, you can never be sure if you will get the decryptor once the money is transferred. Also, there are reports about working decryptors developed by volunteer IT specialists, so you may want to try them out instead of sending your savings to cyber criminals. However, if you are here to eliminate Stampado Ransomware, we can offer you a removal guide placed below the article.
Unfortunately, we cannot say how the malware is spread, but we can confirm that it settles in the system by placing an executable file called scvhost.exe in the %AppData% directory. Unlike other similar threats, it does not seem that the ransomware adds any text or HTML files. Instead, it simply displays a window on the user's screen that contains basic information and instructions. The text within the window states: "All your files have been encrypted." Then, it mentions a secret key that is necessary to decrypt the locked data. Needless to say that if you want to obtain this key, you would have to pay a ransom. However, if you want to get the further instructions, you have to contact the cyber criminals via email.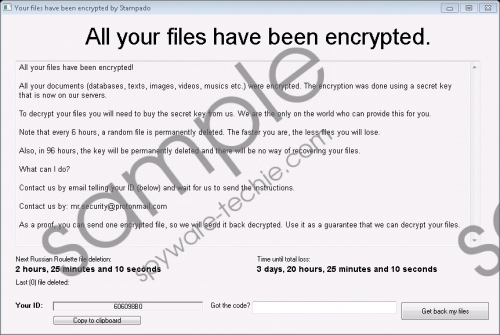 Stampado Ransomware screenshot
Scroll down for full removal instructions
The rest of the text is mostly written to scare users and persuade them to pay the ransom. For instance, it says that you have 96 hours to pay or the decryption key will be deleted. Also, according to the ransom's note, Stampado Ransomware will erase a random encrypted file after each six hours. To make it look more dramatic, there are two clocks running out of time. The first one is titled as "Next Russian Roulette file deletion" and the other one is called "Time until total loss."
The malware should lock user's data with a strong encryption algorithm called AES-256. Like most of other similar infections, Stampado Ransomware locks only personal files on the computer. In other words, it should not affect program files that belong to the system or were installed by the user. You can easily recognize the encrypted data since it should have an additional .locked extension. Sadly, you cannot remove this extension or otherwise decrypt your data on your own. Nonetheless, as we said earlier, users could look for a decryptor on the Internet. There are IT specialists who create them voluntarily and distribute such tools free of charge. Thus, do not despair until you try every last option that does not cost you anything.
If you found a way to recover the encrypted data or you, simply want to eliminate the malware, follow the removal guide below this text. It will show you how to access the location where you should find and erase a malicious executable file that we mentioned above. When you get rid of this file, it is advisable to do a full system scan. There might be modified versions of the malware that could place more files on the system. If Stampado Ransomware added more malicious data on the computer, a trustworthy antimalware tool will find it and help you erase it.
Eliminate Stampado Ransomware
Press Windows Key+E.
Insert %AppData% into the Explorer and press Enter.
Find a file called scvhost.exe, right-click it and press Delete.
Close the Explorer and empty the Recycle bin.
In non-techie terms:
Stampado Ransomware is a malicious program that locks user's data and makes it unusable. Despite that the malware is not that troublesome as you can eliminate it without enabling Safe Mode. According to our researchers, all you have to do is erase an executable file from the directory that is mentioned in the removal guide above. However, we would still advise you to perform a system scan, just to make sure that the infection is completely deleted. The ransomware is a recently created program, so there still might be something we do not know about it. Installing an antimalware tool should not take long, and it might help you clean your system from other possible threats.