Do you know what Stabers.club is?
Stabers.club is an incredibly suspicious search engine that some might classify as a browser hijacker. At this point, our research team does not have information about whether or not this strange tool could corrupt browsers, but if your browser was taken over without your knowledge or against your wishes, there is no doubt that you should not look at it as a normal search engine. Even if you have set it up yourself, there is at least one big reason why you should remove Stabers.club. Is it difficult to get rid of this strange search tool? That depends on whether or not it is associated with malicious infections, and if or not you have experience dealing with unreliable software. Even if you are inexperienced, we can help you delete the suspicious tool from any browser that it might have taken over.
According to our research team, Stabers.club does not act as a hijacker in all cases, by which we mean that it is not always installed or set. Instead, you could be redirected to it. For example, you could be redirected to this page via such websites as watchonlinemovies.com.pk and powerfulappz.com. Needless to say, you will never be redirected to unreliable sites from those that are legitimate and trustworthy; unless, of course, they themselves are corrupted. If you were redirected to Stabers.club, most likely, you visited an unreliable website. If this search tool was set as the homepage or default search provider on your browser, it must have been installed, and, most likely, it was installed along with something else. Can you identify the extension or program associated with the search engine? If you can, we suggest you delete it immediately. If you are not able to identify extensions/programs, at least scan your operating system using a legit malware scanner to check if malware exists. If it does, remove it ASAP.
Why should you delete Stabers.club? If it has not corrupted your browser illegally, it might be hard for you to understand why this search tool is not reliable. After all, it allows changing wallpapers, and it offers weather, time, and to-do list widgets. The "Play Games" button offers a bunch of games from such websites as qkygames.com, kizi.com, or wanderers.io. Also, the search tool offered via Stabers.club redirects to Google Search, and we all know that this search engine is trustworthy and reliable, right? Our research team has checked this out, and it was found that the results shown via this engine are not modified by the hijacker – at least not at the time of research – but that does not mean that you should trust it. What this engine lacks is official information. You are not offered links to privacy policies, license agreements, and other statements that must follow trustworthy and transparent tools. Without these statements, you cannot be sure about the activity of the search tool, and that is why it must be deleted.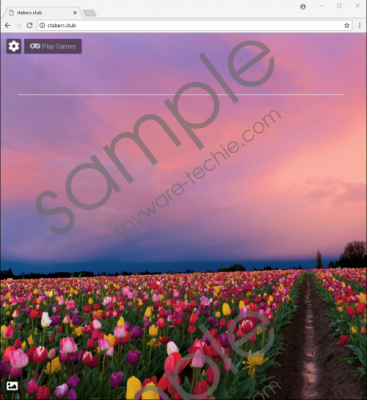 Stabers.club screenshot
Scroll down for full removal instructions
If Stabers.club was introduced to you by an extension or application, you might have to eliminate it to have the search tool erased too. The instructions below show how to do it. They also show how to reset the browser in case the search tool remains put after the removal of extensions and apps. Although manual removal might seem like a terrific option, the most beneficial thing you can do for yourself is to install a legitimate anti-malware program because it would automatically eliminate the threat. It certainly is easier to clean the system using anti-malware software, but it is most important to note that anti-malware software is built to protect the operating system against malicious infections.
Remove Stabers.club
Uninstall unwanted applications
Click the Start menu icon on the Taskbar.
Open the Control Panel and click Uninstall a program.
Uninstall unfamiliar and undesirable apps.
N.B. On Windows 10 you can find Control Panel via the search field on the Taskbar.
Reset Internet Explorer
Open the browser and access the Tools menu by tapping Alt+T keys.
Select Internet options.
Click the Advanced tab and then click Reset.
Mark Delete personal settings and then click Reset.
Remove extensions and reset Mozilla Firefox
Open the browser and access the Tools menu by tapping Alt+T keys.
Select Add-ons and then Remove undesirable and unfamiliar extensions.
Tap Alt+H and select Troubleshooting information.
Click Refresh Firefox and then, to confirm, click Refresh Firefox again.
Remove extensions and reset Google Chrome
Open the browser and access the Chrome menu by tapping Alt+F.
Select More tools, go to Extensions, and then Remove unfamiliar and unwanted extensions.
Tap Alt+F again, select Settings, and then click Advanced at the bottom of the menu.
Go to Reset and clean up menu, click Restore settings…, and click RESET SETTINGS.
In non-techie terms:
If you were redirected to Stabers.club, interacting with the search tool and other features of this search tool is not recommended. If this search tool took over the homepage and/or default search provider, you might have to delete extensions or applications linked to the tool. Although the search tool redirects to Google Search, and the games it promotes appear to be legitimate, the search engine is too mysterious and unpredictable, and trusting it is not recommended at all. Without a doubt, the only thing we advise is removing Stabers.club, and you can do it manually (see the guide above) or with the help of anti-malware software. If you are not experienced, and you are worried about the security of your system, you really should consider employing anti-malware software.