Do you know what Square Corner is?
Square Corner is an ad-supported program that can make your browsing experience miserable by displaying third-party ads whenever you go surfing the web. The latest versions of Google Chrome already block this adware, which only confirms that you should not have this application on your computer if you care about virtual safety. Besides the distracting ads, there is also a chance that this adware application has entered your system along with other computer infections. All in all, there are multiple dangers involved if you keep this application on your computer. In order to find out why we advise you to remove Square Corner, please read our full report.
Square Corner is not entirely new to our researchers since it belongs to the SuperWeb family, which has produced hundreds of ad-supported applications, including Razor Web and Cooking up Coupons. If Square Corner has infiltrated your system, it is fair to assume that you may have other infections as well due to the fact that it is mainly distributed in freeware bundles. These software packages may contain a couple of malware infections together with a legitimate free program. That is why you need to be very cautious during installations because you may have an opportunity to say no to the unwanted programs and components. Missing this might result in serious damage to your computer; therefore, the safest solution is to delete Square Corner and all other related threats. We also need to mention that this adware does have an official website, squarecornerplace.com, but you cannot actually download the application from there.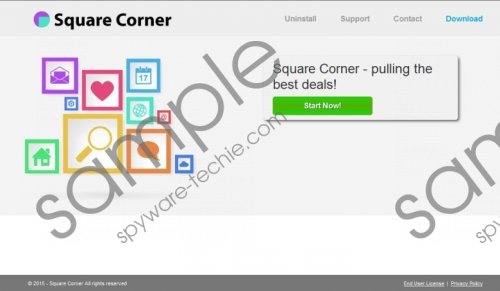 Square Corner screenshot
Scroll down for full removal instructions
Once Square Corner gets installed it starts to show you pop-up, banner, and coupon ads. This adware also collects various bits of information about your browsing habits, including the online stores you visit, products you check or buy, what kind of ads you click on, and your IP address. This data can be used to compile a profile on you, which can be shared with third-parties. These parties then can target you with customized ads in return, which can seduce you more easily to click on them. At first, you might think it is good to have all kinds of best deals shown to you; however, keep in mind that schemers can embed links into these ads to redirect you to potentially dangerous websites. If this happens, you may get a bunch of other malware that can put your system at risk. But the worse case is when you find yourself on a fake shopping site where you may provide your banking data to buy something and end up in the middle of an online scam losing your precious money. Removing Square Corner is the only way to make sure you do not accidentally click on any questionable advertisement provided by this adware.
Luckily for you, cleaning Square Corner from your computer is as easy as ABC. But just in case you have never uninstalled an application, we have included a guide for you below. Please remember that after completing these steps, you may still have other infections hiding on your PC. In order to make sure your system is free from threats, we suggest that you invest in a reputable antimalware program that can automatically take care of all your security issues.
How to remove Square Corner
Windows XP
Click Start and select Control Panel.
Select Add or Remove Programs.
Remove the application.
Windows Vista and Windows 7
Access the Start menu and select Control Panel.
Click Uninstall a program.
Click on the application and click Uninstall.
Windows 8 and Windows 8.1
Tap Win+R and type in control panel.
Click Uninstall a program.
Select the application and click Uninstall.
In non-techie terms:
Square Corner is an adware application that floods your screen with potentially harmful third-party advertisements while you are browsing the web. It may also come with a number of other infections in the same package; therefore it is best to remove this adware and all related applications from your system to prevent them from threatening your system's security. The safest solution is always to go for automatic detection and removal, which you can achieve by using an authentic antimalware application.