Do you know what SpyLookout is?
It may come as a surprise, but SpyLookout is actually an adware application. You might want to remove this application, because it is set to display a lot of unasked for and unpleasant third-party advertisements. The ads are irritating, but more importantly, they are apt to put your computer's security in jeopardy, as they can promote unreliable websites and software downloads. SpyLookout is promoted as a tracking monitor, but does not work, because it was never designed to work. It is, in fact, a fake application and its advertising campaign is set to trick users into downloading it.
SpyLookout has been released by a software publisher called Coffee and Comfort Apps, LLC, which is a primary distributor of adware. Allegedly, this company is located in Grandville, Michigan in the United States. Among other applications, this company is also responsible for releasing InfoSeeker, essentially a clone of SpyLookout, but advertised as a different product. Note that different clones can be digitally signed by other shady publishers, such as Parallel Lines Development, Mesa Roha Solutions, and a few others. These publishers are closely linked to one another and are often regarded as one publisher.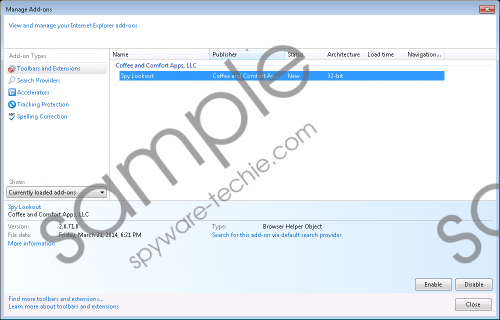 SpyLookout screenshot
Scroll down for full removal instructions
Our security analysts suggest that SpyLookout is mostly bundled with third-party download managers that you can get on shareware websites. Nevertheless, some users intentionally download this application from its promotional website Spylookoutapp.com. Some web browsers warn users that this website is dangerous, but many press on. Of course, the misleading information featured on the website can convince people that SpyLookout is essential to have, but it is absolutely useless as a tracking monitor.
As previously stated, this program's only objective is to display advertisements that come in the shape of coupons, in-texts, banners, interstitial ads, pop-ups and pop-unders, and so on. The program's website states that they use many third-party partners to "deliver the most relevant and highest quality ads possible." Unfortunately, in some cases the advertisements redirect to unreliable websites, therefore, you should not trust this program's promotions. The entity that manages the promotions might have a hard time keeping all of the advertisers in line. The bottom line is that the developers want to get paid for their advertising services, so they are likely to put up with shady promotional techniques employed by their clients.
You also should not trust these developers with your information that they automatically collect via the website and software. The automatically collected information includes Internet Protocol (IP) address, operating system and browser type, web browser history, document history, filenames, installed software, software usage, and so on. The list is quite extensive and there is no way to tell for sure if this collection does not go on beyond the limits of what is non-personal information. Of course, you can unintentionally provide personal information if you contact the publishers. Note that this information should be used for marketing and advertising purposes, but regardless, you should not allow this information to be collected by unknown entities.
So you should remove SpyLookout, because its tracking monitor is non-existent. This application also displays a lot of unreliable advertisements that come from unreliable sources, and it also has the ability to collect information about you. So this application is deceptive and unreliable. Therefore our security analysts recommend that you delete SpyLookout as soon as possible.
Uninstall SpyLookout
Windows 10
Right-click on the Start menu.
Click Control Panel and go to Uninstall a program.
Find SpyLookout and right-click on it.
Click the Uninstall.
Windows 8 & 8.1
Open the Start screen located at the bottom left side of the screen.
Type Uninstall in the search box and then go to Settings.
Click Uninstall a program in the search results.
Find SpyLookout and click Uninstall.
Windows 7 &Vista
Click Start.
Select Control Panel.
Click Uninstall a program.
Find SpyLookout and right-click on it.
Click Uninstall.
Windows XP
Open the Start menu.
Click Control Panel.
Select Add or Remove Programs.
Find the unwanted program and click Remove.
In non-techie terms:
SpyLookout is an adware-type application that is set to provide you with unasked-for and unreliable commercial advertisements. It is advertised as a tracking monitor that in reality does not work. It is just a clever scheme to get people to install this application. Online advertising generates revenue and SpyLookout has been created only for this purpose. It also collects information about you that you might not want to disclose. Please read the full article to learn more.