Do you know what SpringFiles is?
The Cyber security industry regards SpringFiles as a potentially unwanted program due to its somewhat questionable behavior. Even though this application is quite useful and seems legitimate, it almost always comes bundled with malicious applications such as adware and browser hijackers. So you might want to remove the various unreliable applications that accompany it, and maybe SpringFiles itself. So join us as we delve deeper into the pros and cons of SpringFiles which will hopefully help you decide whether to trust it or not. First we will discuss its origins, and then, we will move on to analyzing how it works. Lastly, we will provide a removal guide which will help novice users delete this program and its other affiliated software.
SpringFiles is owned by a company called Via Advertising Group Limited. A very fancy name indeed, but sadly, it is more uttered by cyber security analysts and antimalware software developers than ordinary users. The company's title speaks for itself. Via Advertising Group Limited is a primary distributor of adware-type programs by bundling various potentially unwanted programs in a bundled installer. So the developer is clearly unreliable and its products should be avoided accordingly. this program should be up for download on Spring-file.com, but at the time of this article, the download did not work. It is possible that whether issues where plaguing it have been fixed. Our researchers did not find any other websites that would distribute it, but we have received unconfirmed reports that it might be put up for download on file repository websites.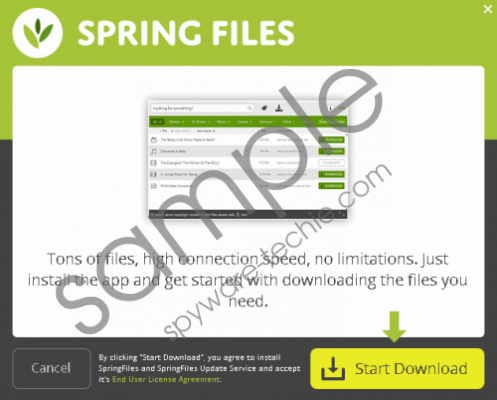 SpringFiles screenshot
Scroll down for full removal instructions
To the amazement of our researchers SpringFiles actually workes. This is very rare, but this download manager has a working search function that can actually find and download applications. This is very useful is cases when a desirable application is hard to find. However, when you install SpringFiles you will also install malware, because this application never comes in a standalone installer. Currently this potentially unwanted program is bundled with a browser hijacker called Oursurfing.com which has been developed by SmartWave Technology Limited. This hijacker uses the Yahoo search engine to do all its searches, so it is useless even as a standard search engine. Furthermore, this hijacker modifies Target lines of Chrome, Firefox, and Internet Explorer to prevent you from rolling back its changes. When our researchers tested an acquired sample, the installation setup did not ask whether they wanted the new homepage or not. SpringFiles is not a malicious application, and arguably offers some real value. However, it always comes bundled with malicious software, so you have to remove that software as soon as possible. Whether you want to get rid of SpringFiles is completely up to you, but we recommend just not installing it in the first place.
If you want to remove SpringFiles or its affiliated applications you must visit the Control Panel and uninstall any affiliated malware, such as the Oursurfing.com hijacker. Secondly, you should check your browser's list of extensions for unwanted add-ons. Finally, you should fix your browser's Target line. For detailed instructions, please follow the instructions located below. Keep in mind that your computer's security is of utmost importance. Try not to Install applications from unreliable sources and always opt for advanced installation settings.
Uninstall SpringFiles0-related programs via Control Panel
Windows 8 or 8.1
Move the mouse to the lower-left of the screen.
Right-click the Windows logo and select Control Panel.
Go to Uninstall a program.
Find SpringFiles and Oursurfing.com and click Uninstall.
Windows Vista or 7
Move the mouse to the lower-left of the screen.
Click the Start menu button and select Control Panel.
Click Uninstall a Program.
Find SpringFiles and Oursurfing.com and click Uninstall.
Windows XP
Move the mouse to the lower-left of the screen.
Click the Start menu button and select Control Panel.
Click Add or Remove Programs.
Find SpringFiles and Oursurfing.com and click Remove.
Delete the modifications made to the Brower's Target line
Right-click on the browser.
Select Properties.
Open the Shortcut tab.
Delete the unwanted search engine from the Target line.
Click OK.
Remove the SpringFiles -related browser extensions
Microsoft Internet Explorer
Tap Alt+X.
Click Manage Add-ons.
Click Toolbars and Extensions.
Remove the unwanted extension.
Click Close.
Press Alt+T and click Internet Options.
Change the homepage.
Click OK.
Google Chrome
Tap Alt+F.
Click More tools.
Click Extensions and Remove the add-on.
Press Alt+F again.
Find the On Startup list and select Set pages.
Change the homepage and click OK.
Mozilla Firefox
Tap Ctrl+Shift+A.
Click Extensions and Remove the add-on.
Press Alt+T and click Options.
Change the homepage.
In non-techie terms:
SpringFiles is a potentially unwanted application that you ought to remove together with its its bundled companions. This application is useful and functions well. But it is known to be bundled with adware and browser hijackers that are considered malicious and undesirable, so we suggest that you use our removal guide that get rid of its affiliated applications. You can keep SpringFiles but we doubt that you will want to, when you consider its unreliable nature.