Do you know what SportsHero is?
SportsHero is presented as a useful program that is meant to provide you with an easy access to all sports-related news. Unfortunately, it is just another potentially unwanted program that cannot live up to your expectations. If you download this program onto your Google Chrome browser, all that you will get will be an extension providing links to obvious sites and exposing you to a suspicious search provider. Is this PUP dangerous or malicious? Our research team does not classify it as a malicious threat, but that does not mean that you can postpone its removal. We strongly recommend removing SportsHero from the Google Chrome browser because it is not beneficial and because it can expose you to sites that might introduce you to unreliable content. In general, this PUP is not the criminal, but it could be an accessory to the crime. If you want to learn more, please keep reading.
APN, LLC is the creator of SportsHero, and it is also responsible for TVHero, Muzik Fury, GameOn, and several other suspicious extensions. The one we are discussing in this report is only compatible with Google Chrome, but our research has revealed that other extensions from this family are compatible with Mozilla Firefox as well. Of course, if you need instructions on how to delete SportsHero from Mozilla Firefox, you can post your query in the comments section below. Chrome users can download this extension from the sporthero.thewhizmarketing.com, but this website simply represents the installer available on chrome.google.com/webstore/detail/sports-hero/kgokkpinadgklmekoepdbegcgpkiifde. Our research team has also found that this potentially unwanted program can be spread via bundles that are promoted via misleading pop-ups. In that case, the suspicious extension could have entered your PC along with much more suspicious and unreliable pieces of software. If you are not sure if malware has slithered in, quickly examine your system with the help of a legitimate malware scanner.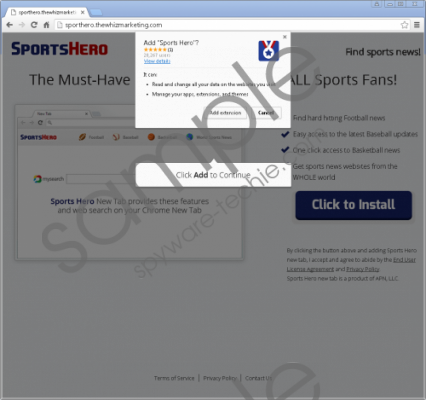 SportsHero screenshot
Scroll down for full removal instructions
As mentioned previously, SportsHero is not very helpful. The easy-access links that this tool provides you with are nfl.com, nba.com, mlb.mlb.com/home, and bleacherreport.com. Needless to say, these links are legitimate, and you can find reliable information via them. The quick links represented via the New Tab page – which is entirely corrupted by the PUP – also promote legitimate websites. What we are worried about is search tool that is part of the program. This tool represents the www.mysearch.com search engine that shows sponsored search results. Although you should be able to see which links represent ads and which ones represent the information you are looking for, it is still dangerous to interact with this tool. Even when you click on harmless links, SportsHero cookies might collect information about your interaction with any content. What is more, they might leak it to unknown parties. If you do not want suspicious data-trackers to spy on you, we recommend deleting the PUP immediately.
You can access the chrome://extensions/ menu (enter it into the address bar on Chrome) to find and delete SportsHero. You can also follow the instructions below. If other infections exist, it is best to install software that will erase all threats and potentially unwanted programs automatically. We advise installing anti-malware software that will simultaneously protect your operating system as well. In fact, we advise that you invest in legitimate anti-malware software even if you successfully clean your operating system manually. If your operating system has become unresponsive or it crashes randomly, it is possible that much more dangerous threats have corrupted it. In that case, you might have to use the instructions you can find right below the "in non-techie terms" section.
Remove SportsHero from Windows
Simultaneously tap Win+E to launch Explorer.
Enter %LOCALAPPDATA%\Google\Chrome\User Data\ or %UserProfile%\Local Settings\Application Data\Google\Chrome\User Data\ (if you use Windows XP) into the address bar.
Open the folder named Default or after your Profile name.
Delete the files named Preferences and Secure Preferences.
Open the Local Storage folder.
Delete the files called chrome-extension_kgokkpinadgklmekoepdbegcgpkiifde_0.localstorage and chrome-extension_kgokkpinadgklmekoepdbegcgpkiifde_0.localstorage-journal.
Go back to the Default/Profile folder and move to Extensions.
Delete the folder named kgokkpinadgklmekoepdbegcgpkiifde.
In non-techie terms:
Although you might have use for SportsHero, this potentially unwanted program is too suspicious to keep around. The links that it represents can be attached to any toolbar or the bookmarks bar, and so you do not need to install this program. The search tool associated with this PUP is not reliable either because it does not present users with reliable search services. Our research team recommends installing anti-malware software to ensure that your PC gets cleaned. Not only will this software erase the PUP and every single unreliable component on your PC but also keep it free of malware at all times. You can also use our guide to delete this PUP manually.