Do you know what Spongebob Ransomware is?
Spongebob Ransomware is a program that should never be active on your personal computer. If you ever happen to come across, make sure to avoid it at all times. It is critical to do so because this malicious piece of software can exhibit extremely malicious functionality. Like any of its counterparts, the ransomware in question could lock vast amount of your data if it is ever active your operating system. As you can imagine, such functionality could have devastating outcomes, to put it lightly. To learn more about the intricate design of this malicious program, make sure to read the rest of our detailed report. Likewise, in our article, we include a few virtual security recommendations that should help you maintain a fully secure operating system at all times. Finally, below you will find a comprehensive removal guide that will help you remove Spongebob Ransomware in just a few simple steps.
During the in-depth analysis of Spongebob Ransomware malware researchers at Spyware-Techie.com have discovered that this malicious program seems to be still under development. It is good news for users that already have this devious program up and running on their PC because, at the moment, this ransomware does not encrypt files. Even though this is fortunate, it is still important to remove this intrusive program as soon as possible because if it does start working in the way it should while still running on your PC, you could face devastating outcomes. Our researchers have noticed that this malicious piece of software is its second version being tried out by cyber crooks; thus, it is better not to take any chances. What is concerning is that even though this malware does not affect any of the files, it still issues a warning message, which might fool some unsuspecting Internet users. According to the ransom note, your data is no longer accessible and that you have only three days to pay the required ransom. You are asked to pay in the Bitcoin cryptocurrency for decryption services. Under no circumstances abide by these demands since you do not need such services as your files are not affected in any way, and you can easily access them. Do not take any chances with Spongebob Ransomware as it could start acting at any time and you could lose a large amount of data. Make sure to perform its complete removal as soon as possible by using the instructions that we provide below.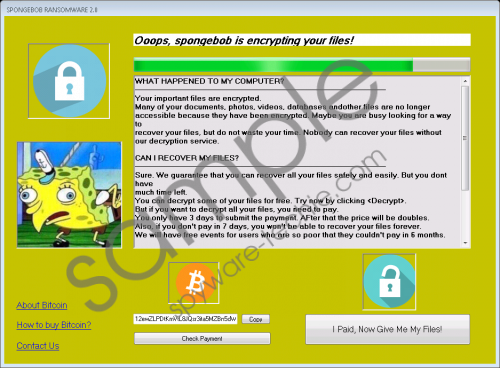 Spongebob Ransomware screenshot
Scroll down for full removal instructions
It goes without saying that it is critical to maintain a fully secure operating system at all times. To do that, make sure to follow the recommendations provided by our malware experts. Firstly and most importantly, make sure to install a professional antimalware tool if you do not have one already. Such a tool is paramount to your virtual security since it provides overall system security at all times, meaning that it can detect and terminate any virtual threat automatically. Furthermore, we urge every user to practice safe browsing habits; this means that you must avoid all unauthorized third-party download websites since they are infamous for being the primary source of bundled installers, which are known to be embedded with questionable and even malicious programs. Likewise, you should refrain from all suspicious email attachments that come your way from unknown sources because cyber crooks are known to use spam email campaigns to distribute their devious programs. It is also important to know that malware developers also tend to use misleading marketing techniques to lure unsuspecting Internet users into downloading and installing devious programs. Therefore, make sure to always learn about a program before actually downloading it. These fairly straightforward precautionary steps will make your operating system virtually unbreakable.
Make sure to delete Spongebob Ransomware as soon as possible since keeping it active on your PC could lead to devastating outcomes. Be sure not to skip any steps during the procedure as that could lead to an incomplete removal, which could have undesirable outcomes. In some instances, traces of this malicious program might initiate its silent restoration. To be sure that no leftovers linked to Spongebob Ransomware are active on your PC, make sure to perform an in-depth analysis of your entire operating system for its potential traces as soon as you are done with the removal guide below. This way you will be sure that the termination procedure has been successful.
How to remove Spongebob Ransomware from your PC
Right-click your Task bar.
Select Start Task Manager.
Click the Processes tab.
Select the malicious process and click End Process. Keep in mind that the name of this process is random.
Open your File Explorer.
Go to C:\Users\[your username]\Downloads.
Select a malicious .exe file and tap Delete on your keyboard. Keep in mind that the name of this process is random.
Go to C:\Users\[your username]\AppData\Local\Temp.
Select a malicious .exe file and tap Delete on your keyboard. Keep in mind that the name of this process is random.
Right-click your Recycle Bin and then select Empty Recycle Bin.
In non-techie terms:
If you happen to find manual removal a too complicated, do not worry. Malware researcher Spyware-Techie.com have crafted an alternative removal guide. Follow the instructions below to delete Spongebob Ransomware automatically.