Do you know what SpeedingUpMyPC is?
SpeedingUpMyPC is yet another PC optimizer that our security analysts have classified as potentially unwanted program (PUP.) From the very outset, we recommend that you remove this application from your computer as it has absolutely nothing useful to offer. This program's developers claim that SpeedingUpMyPC will "Stop Windows, Crashes Freezes and other "Strange" Windows Behavior !" Obviously, its developers count on the ignorance on the part of the users to try this program out. Little do the users know that this program will demand that they buy the full version after completing a quick scan which will undoubtedly results in a lot of errors, but the this program does not provide any information about them, so its scan results are untrustworthy. This short description will provide you with the most important information regarding this program.
According to the terms and conditions of this program, SpeedingUpMyPC was developed by a company called SpeedingSoftware, Inc. This company has its own website at Speedingsoftware.com, and this website only features one product — SpeedingUpMyPC. This PC optimizer has been around since 2011, but it has not gathered much of a user base throughout the now almost 5 years of its existence, and it is easy to see why.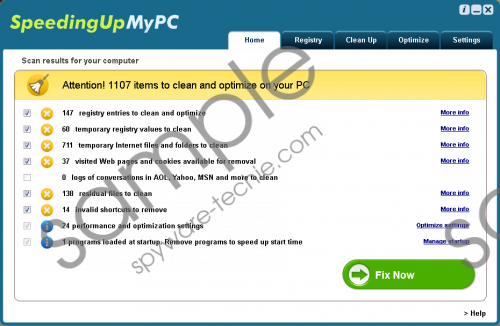 SpeedingUpMyPC screenshot
Scroll down for full removal instructions
Nevertheless, some users may get it unintentionally as our security analysts have found that it to be bundled with malicious software such as adware, bad toolbars, and so on. Not only that, but you can also get its standalone installer from Software.informer.com, which, by the way, states that "This software might contain adware or suspicious components." So even the third-party that disseminates it calls it suspicious, and yet continues to feature it on the website. Like most potentially unwanted programs these days, SpeedingUpMyPC has its very own dedicated website at Speedingupmypc.com. However, this website is nearing its end as most of its subpages cannot be accessed anymore. SpeedingUpMyPC can no longer be downloaded from this website.
SpeedingUpMyPC is identical to Optimizer Pro In terms of its functionality. So let us talk about what this program claims to do and what it can actually do. This PC optimizer's website provides an extensive list of what it claims to fix and repair. This list includes but is not limited to fixing .dll, .exe errors, Windows driver errors, Windows registry errors and program errors, and repairing Windows shortcuts. However, this irrelevant program does not have a file replacement system that takes a lot of time and recourses to develop. SpeedingUpMyPC's scan takes only a few seconds and results in thousands of detected issues. This program does not provide any information about its findings which is typical for a PUP of its complexity. In order to fix the issues you will have to purchase the product. However, there are no guarantees that this program will ever fix anything. It may show you that it did but in reality it might do absolutely nothing.
Therefore, we are of the opinion that this program is next to useless. It completes its scanning process way to fast which is indicative that its findings are unreliable or to put it blatantly — fake. For this reason, we recommend that you remove SpeedingUpMyPC using the removal instructions located below, provided that you do not know how to uninstall a program via Control Panel.
How to uninstall SpeedingUpMyPC
Windows XP
Open the Start menu located on the bottom left side of the screen.
Click Control Panel.
Select Add or Remove Programs and find the application.
Click Remove.
Windows 7 and Windows Vista
Click Start located on the bottom-left side of the screen.
Select Control Panel.
Click Uninstall a program and find the unwanted program.
Click Uninstall.
Windows 8 and Windows 8.1
Open the Charm bar located on the right side of the screen.
Click Settings and select Control Panel.
Open Uninstall a program.
Find the undesirable application.
Click the Uninstall button.
Windows 10
Navigate the mouse to the bottom-left corner of the screen.
Right-click on the Start menu and select Programs and Features.
Find the software and right-click on it.
Click the Uninstall button.
In non-techie terms:
SpeedingUpMyPC is a supposed PC optimization tool, but our researchers have deemed it as a potentially unwanted program, which in the case of this program means that it is practically useless. It performs a quick scan of your computer but offers no information about exactly what and where it found a given issue. Still, its developers want you to trust the given error count and click the purchase button. However, we recommend that you click the uninstall button.