Do you know what Speed-Find.com Search is?
Speed-Find.com Search is a browser hijacker that silently enters your computer and modifies your browser settings. It changes your default home page to Speed-Find.com, and sets HomeHelperSfr as your default search engine. These changes affect all main browsers (Google Chrome, Mozilla Firefox and Internet Explorer), and it obviously trespasses your privacy. It is necessary to remove Speed-Find.com Search from the system in order to prevent other unwanted applications from entering it.
According to security experts, Speed-Find.com Search is not the first browser hijacker in line. There have been other clones in this group, each of which would redirect computer users to quick-seeker.com, rapid-searcher.com or best-found.com.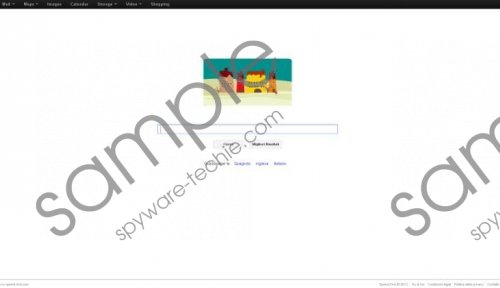 Speed-Find.com Search screenshot
Scroll down for full removal instructions
If you judge by the appearance, Speed-Find.com Search does not seem to be dangerous at all. In fact, it looks like a genuine search engine mostly aimed at Spanish and Italian computer users. It even provides you with relevant search results if you enter search keywords into the search box and press Enter. Unfortunately, you cannot tolerate this infection, because Speed-Find.com Search enters your system without even informing you about it.
This browser hijacker usually makes use of freeware downloaders to get installed on a computer. For example, if you download applications from softonfire.com, you are bound to get infected with Speed-Find.com Search as well. The programs that are available for download at the website are legal, but if you really need them, then download them at their official web pages. Making use of softonfire.com downloader will result in a silent Speed-Find.com Search installation and your default home page will be changed immediately.
This browser hijacker also installs adware helpers that might make it difficult for you to remove Speed-Find.com Search manually, but that is definitely possible. All you have to do is remove all the related applications via Control Panel, and then change your default home page and search engine manually.
If you do not know which program Speed-Find.com Search has arrived with, scan your computer with a reliable antimalware tool and all the potentially unwanted applications will be detected at once. You need to remove everything at once, because Speed-Find.com Search might be related to malicious third parties that could be collecting data on your web browsing habits via tracking cookies.
Do not hesitate to invest in a powerful antimalware tool that will help you delete Speed-Find.com Search or any remaining files from your system. At the same time, this way you will be able to safeguard the PC from other potential infections.
Manual Speed-Find.com Search Removal
Windows 8
Move mouse cursor to the bottom right of the screen.
Click Settings on Charm bar and go to Control panel.
Select Uninstall a program and remove Speed-Find, HomeHelperSfr and other related apps.
Windows Vista & Windows 7
Press Start button and click Control Panel.
Open Uninstall a program and remove all unwanted applications.
Windows XP
Open Start menu and go to Control Panel.
Select Add or remove programs and uninstall undesirable programs.
Change your browser settings
Internet Explorer
Press Alt+T and click Manage add-ons.
Press Search providers on the left pane.
Set a new default search engine and remove HomeHelperSfr.
Press Alt+T again and click Internet options.
Press Use default under General tab and click OK.
Mozilla Firefox
Press search engine icon on the left of search box (top right corner).
Select Manage search engines on drop-down menu.
Remove HomeHelperSfr from the list and click OK.
Press Firefox button and click Options.
Press Restore to Default under General tab and press OK.
Google Chrome
Press Alt+F and click Settings.
Under On Startup, mark Open a specific page or set of pages.
Click Set pages, remove speed-find.com, enter a new home page address and click OK.
Press Manage search engines button under Search.
Set a new default search engine; remove Speed-Find.com and press Done.
In non-techie terms:
Speed-Find.com Search is a dangerous computer infection that interferes with the way you browse the Internet. It can lead to complete system annihilation so it would be for the best to remove Speed-Find.com Search right now.
Aliases: Speed-Find.com virus.