Do you know what Special Box is?
No matter what special features specialboxsite.com might promise, Special Box is nothing more than just another advertisement-supported application. It is best to remove this adware because the longer you resist terminating it, the more aggravating and dangerous it becomes. Compatible with Internet Explorer and Mozilla Firefox, it endorses third-party content directly on your browser window in the form of pop-ups, banners, in-text ads, etc. It might also provide coupon or discount information when you visit such online retailers as Ebay, BestBuy, or others. Though, typical of adware, it tracks your browsing patterns in order to fashion the most personalized content, you will rarely find it worth your attention. As you see, you should remove Special Box because, unlike the official site promises, it will definitely fail to "make your browsing experience…better."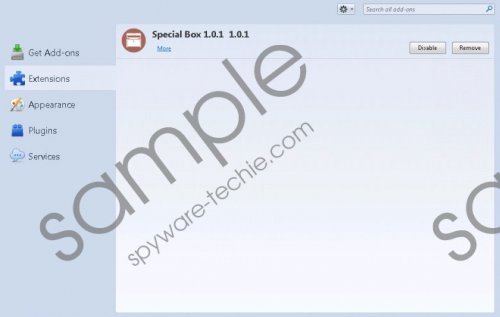 Special Box screenshot
Scroll down for full removal instructions
Special Box was created by SuperWeb LLC, a developer which is already infamous for releasing dozens of free clone applications, examples being Mounain Bike, Steel Cut, and Key Shift. Users usually end up removing these programs as soon as they realize that this software can be dangerous, meaning that the third-party links displayed by Special Box might not seem as innocuous as you might think: i.e., it would take only a single click on a random ad to be transferred to an unsafe site filled with malware. For example, you might be prompted to authorize the access of a malicious application, utility, or file; however, there might be other tricks that malware has up its sleeve to gain your permission to enter your system. We encourage you to delete Special Box due to the possibility of the security concerns it can be a part of; the process is not complicated, as you can terminate this application permanently from Control Panel.
If you visit the aforementioned official site, you will not find any way to download Special Box from there, the download link being inactive. This just proves that developers rely on other channels to deploy this adware application on target computers. Special Box is not an exception when it comes to spreading via software bundles, a type of distribution which has been utilized to disseminate many unwanted or malicious programs. Always keep your eye on downloaders and installers, and also read all the information that is provided in the installation wizard. Nevertheless, if you have Special Box, it is possible that you installed it with companion malicious applications; therefore, employ automatic antimalware tools to locate and remove this dangerous content.
Automatic antimalware software is indispensable when it comes to eliminating all the threats that have invaded your computer. You should use this tool to remove Special Box as well. Though we have added detailed instructions on how to delete this application by yourself manually, we suggest this approach only if you are a skilled enough computer user. If you opened your Internet browser and started seeing content tagged by "Ads by Special Box" or "Provided by Special Box," know that adware has infected your computer and that it is time to take action.
Remove Special Box from your system
Windows 8 & 8.1:
Press the Windows key+R.
Type "control" in the field and press Enter.
Open Programs and Features.
Choose Special Box.
Click Uninstall/Change.
Windows 7 & Vista:
Click the Start button to open the Start menu.
Choose Control Panel.
Open Programs and Features.
Select Special Box.
Click Uninstall/Change.
Windows XP:
Click the Start button to open the Start menu.
Choose Control Panel.
Open Add or Remove Programs.
Choose Special Box.
Click Remove.
In non-techie terms:
Special Box is classified as adware, a type of application that is aimed at serving you with the ads which redirect to the third-party sites. The dark side of keeping this application on your system, apart from the annoying ads, is that it might redirect you to unmonitored sites, which, in turn, might establish the entryway for malware to access your computer. The best tool to remove Special Box and to keep your system secure from the threats you might face while surfing the net is a reliable antimalware removal tool.