Do you know what SourceApp is?
SourceApp is an adware application that will spam you with an astounding amount of commercial pop-up ads, successfully interrupting your web browsing experience. Most of the Ads by SourceApp merely slow down your browser, but you have to keep in mind that this application does not check whether the links in the ads are reliable or not. Some of them could lead you to dangerous websites, so it would be in your best interests to remove SourceApp from your computer the moment you notice this application onboard.
The first thing you have to realize about SourceApp is that it is not a malicious infection. This application can get installed on your computer only if you agree to it. Granted, most of the time users do not notice how SourceApp enters their systems, but that is because the application gets distributed bundled with freeware. Users install many apps at the same time, and they simply fail to see notifications on the installation wizard that inform them about SourceApp.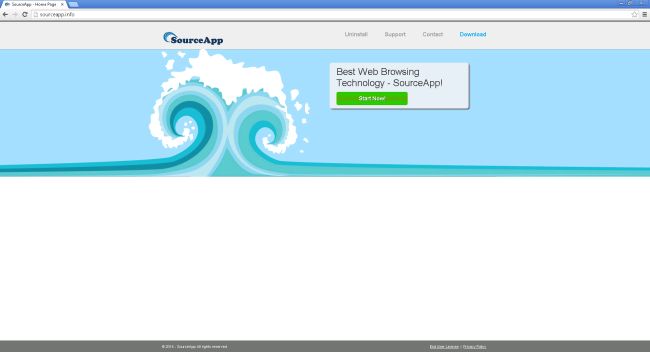 SourceApp screenshot
Scroll down for full removal instructions
Don't fall for this trick – SourceApp cannot be downloaded directly from sourceapp.info. The website is there only to make an impression that the application is useful and reliable. The same tactics are applied by Reverse Page, Rad Rater, Malt Mark, and many other applications from the SuperWeb family. All the programs from this group are identical. They have all been created in order to generate financial profit for their developers.
SourceApp does not try to steal your money and your banking information. It does not need to do that. By displaying commercial ads, SourceApp can redirect you to affiliated websites, and when you access a particular website and increase its traffic count, the people behind SourceApp get paid via the pay-per-click system.
This kind of activity is not illegal, but you have to consider the fact that SourceApp does NOT review what type of content is used in its ads. This means that if cyber criminals decide to make use of SourceApp ads for their own purposes, they can certainly do so. Thus, if you accidentally click an ad that contains outgoing link to a malware-related website, you could experience a severe computer infection.
Prevent this from happening by removing SourceApp right now. Open Control panel and uninstall the application manually. While you are at it, check for other unwanted applications that are bound to be on your computer. If you do not know which programs could be potential system threats, scan your PC with SpyHunter.
The best way to protect your computer is to invest in a licensed antispyware tool. Also, you can always leave us a comment if you have any questions on SourceApp removal or computer security in general.
How to uninstall SourceApp
Windows 8
Slide mouse cursor to the bottom right of your screen.
Click Settings on Charm bar and go to Control panel.
Open Uninstall a program and remove SourceApp.
Windows Vista & Windows 7
Click Start menu and go to Control Panel.
Select Uninstall a program and remove SourceApp.
Windows XP
Open Start menu and select Control panel.
Go to Add or remove programs and uninstall SourceApp.
In non-techie terms:
SourceApp is a program that should not be allowed to remain on your PC. It is a potential computer security threat even if it doesn't try to infect you with malware. Please remove SourceApp from the system ASAP and safeguard your computer from similar intruders.