Do you know what Sos@anointernet.com is?
Sos@anointernet.com is obviously an email address, but it is used by a ransomware infection to collect messages from the infected users. Thus, the address is used as the main keyword to address this malicious program. Sos@anointernet.com is one of the many ransomware infections out there that require users to pay a particular ransom fee in order to restore their file access. However, your biggest task right now is to remove Sos@anointernet.com from your computer, disregarding whether the people behind this infection can issue a decryption key or not.
Just a few days ago we have dealt with Fud@india.com. The guys from our research team say that both ransomware infections are identical, so whatever it was that Fud@india.com wanted Sos@anointernet.com aims for it as well.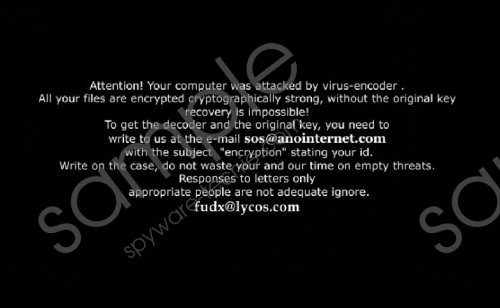 Sos@anointernet.com screenshot
Scroll down for full removal instructions
You most probably have gotten infected with this ransomware program through spam email messages, as the program usually gets distributed by malicious Trojans. If you happen to receive spam email on a regular basis and it has files attached, NEVER open them because one of the files might be the Sos@anointernet.com installer. Various email services these days can easily sort out the real and spam messages, consequently redirecting the spam mail into Junk box, but sometimes those messages might be into your main inbox, and it is of no surprise that curious computer users often get infected with the likes of Sos@anointernet.com.
Upon the infection, Sos@anointernet.com encrypts your personal files with such extensions as .doc, .xls, .jpg, and so on. You could basically say that this infection virtually denies access to all of your most frequently used files. What is more, Sos@anointernet.com deletes all Shadow Volume copies and backups that might have been stored on your computer. This shows that you simply MUST have a file backup in an external storage device; otherwise it would be extremely complicated to decrypt all of your data.
When the files get encrypted, Sos@anointernet.com leaves a ransom note in every folder that contains the affected files. If that weren't enough, the infection also displays the following message on your desktop:
Attention! Your computer was attacked by virus-encoder. All your files are encrypted cryptographically strong, without the original key recovery is impossible!
To get the decoder and the original key, you need to write to us at the e-mail sos@anointernet.com with the subject "encryption" stating your id.
The most important task you have right now is to keep your money safe. Therefore, you should never send any emails to Sos@anointernet.com because there is no guarantee that the hackers would issue a decryption key even if you do pay the ransom.
You should invest in a computer security tool that would help you remove all the Trojans and similar infections from your system. As for Sos@anointernet.com, it might be too complicated to remove it on your own, so you should address computer security experts for it and look for a tool that would help you restore your files. If there is no computer security specialist nearby, please leave us a comment, and we will figure out this problem together.
In non-techie terms:
You were infected with the Sos@anointernet.com ransomware when you opened a spam email attachment. This infection encrypts your files with the intention to demand a ransom fee. Do not pay a single cent to these cyber criminals, and remove Sos@anointernet.com from your computer using a powerful antimalware application ASAP.