Do you know what Sorry HT Ransomware is?
Sorry HT Ransomware may appear on your system without your noticing it and encrypt all your personal files. This can mean a real devastation for you if you do not have a backup copy of your files stored in a safe place. We usually recommend cloud or a removable hard disk to store your precious data; however, none of these methods are really fail safe. Yet, these are still the best choices if you do not protect your PC with a powerful anti-malware program. These attackers offer you a way to decrypt your files if you pay them the demanded ransom fee. But we are not convinced that you would get anything in return. You should consider this before you make a decision. Since you have no guarantee of recovering your files by paying the ransom and we also do not want anyone to support cyber criminals, we advise you to remove Sorry HT Ransomware from your computer immediately.
It is easier to infect your system with such a dangerous ransomware program than you may think. For example, it is just enough if you keep forgetting to update your browsers and drivers (Java and Flash), and go surfing the web. If you were to land on a suspicious website in this case or if your computer is infected with adware, chances are you may click on unsafe third-party content, such as a banner or pop-up ad and a compromised link. The next thing you know you are on a new tab loading a malicious website that starts to make you wonder what you are doing there. However, by the time the page loads it is too late for you to act because this malicious page could be using Exploit Kits to drop this dangerous ransomware infection in the background. So even if you realize that something is off and you exit the browser window, you will not be able to stop or delete Sorry HT Ransomware in time; your files will have been encrypted most likely.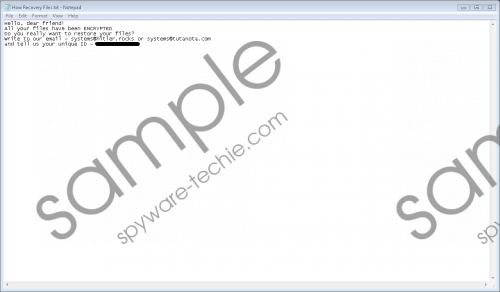 Sorry HT Ransomware screenshot
Scroll down for full removal instructions
The same can happen when you open a spam e-mail and try to check out its attachment. This ransomware can be spread as a malicious executable file disguised as a Word document or a photo; even the file type icon can be matching the fake file type, so it can be rather misleading. No wonder why victims fall for this trick and open this attachment only to initiate this malicious attack that usually results in their losing all their important files. Thus, it pays to be more cautious around your inbox and spam folder, too. Do not open mails that you do not expect to receive or ones that you may feel doubtful about. You can always try to contact the sender to figure out if it was meant for you personally. Remember that you cannot delete Sorry HT Ransomware without losing your files because there is no way for you to abort its vicious operations in time.
You can recognize all the encrypted files easily because they get a ".sorry" extension. This ransomware program works from the same file you download from the spam or other ways. It does create a scheduled task, though, called "JohnCena" in order to start up automatically with Windows. The ransom note text file is named "How Recovery Files.txt" and can be found in every affected folder. This note is very basic and contains no information about the payment or the amount to be paid. It is quite possible that you have to use Bitcoin, though, as this is the cryptocurrency most attacks want. You are simply told to write and email to systems@hitler.rocks or systems@tutanota.com with your personal ID, which you can see in your note. Then, you will get a reply with the instructions. Unfortunately, you have no chance as yet to recover your files because this ransomware also creates a batch file called "deleteMyProgram.bat" that is responsible for deleting all your shadow volume copies as well as the related files of this malicious attack. Still, we recommend that you remove Sorry HT Ransomware or what remains as leftovers on your system.
Luckily, this poorly coded ransomware does not seem to lock your screen or disable your main processes (e.g., Task Manager, explorer.exe, or Registry editor), so it is not too difficult to remove it from your system. It is quite likely that it has done the lion share itself as it is supposed to delete itself after the attack. Yet, it may leave some leftovers like the ransom notes in all your affected folders. If you want to make sure it goes completely, please follow our guide below. Of course, it is possible that you would like to use and effective automated method instead. Therefore, we recommend that you install a reliable anti-malware program to take care of all your system security issues automatically.
Remove Sorry HT Ransomware from Windows
Tap Win+E to open your File Explorer.
If the malicious file was not removed automatically, you need to locate it and delete it manually.
Check out the tasks folders, too ("C:\Windows\System32\Tasks" and "C:\Windows\Tasks") and delete "JohnCena" if you can find it.
Delete all the "How Recovery Files.txt" ransom note files.
Empty your Recycle Bin.
Reboot your system.
In non-techie terms:
Sorry HT Ransomware is a new threat that is built on the notorious base called Hidden Tear Ransomware, which is indeed an open-source ransomware program that has been used by several hackers or wannabes to create a new danger. This malware infection can target hundreds of file extensions and encrypt them beyond the possibility of repair. Unless, of course, you are willing to pay the ransom. However, it usually does not end well for victims since there is no guarantee in this vicious "game" at all. The only good solution here is to have a backup stored on a portable drive or in cloud, which you can use to recover your files after you remove Sorry HT Ransomware from your computer. If you do not feel up to this task, you can always use a trustworthy anti-malware program to automatically clean your PC of all kinds of threats and keep it protected.