Do you know what SonicSearch is?
SonicSearch is a questionable application that our researchers have categorized as an adware program because it functions more like a third-party advertising tool. A lot of users do not even consider third-party ads as a possible risk source and see them as totally innocent commercials. It is true that adware applications may not be very dangerous infections, but they may still pose a potential threat to your virtual security. Clicking on a corrupted ad is enough for you to end up on an infected website. The consequences of such an unfortunate visit may differ from page to page. But one thing is for sure: Your computer will pay the price of that click, or, worse, you will pay. In order to avoid any inconvenience, we advise you to remove SonicSearch from your PC.
If you are a careful user, you most probably double-check the applications you are about to download and install onto your machine. If you did your homework with regard to SonicSearch, it had to become clear in a minute that you are dealing with a suspicious application. If you run a quick Google search on this program, you can see that the first results page is full of articles about how and why you should delete SonicSearch. Hopefully, you see now why it is so important to do this simple check.
Yet, it is possible that you downloaded this adware from its website, sonicsearchapp.com. Although, if this is the first time you have heard about it, chances are you let this application on-board in a free software bundle. If that is the case, you may have several security-related issues already. Therefore, we recommend that you remove SonicSearch and run a full-system scan to see if there is any other infection hiding on your computer. If the scanner finds anything serious, you had better act right away. It may be a good time to think about proper defense and install a professional antimalware application.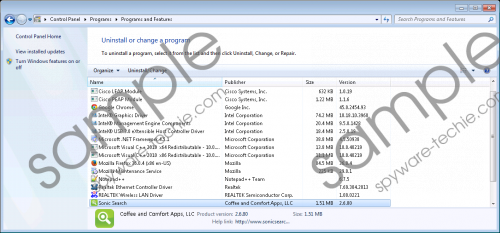 SonicSearch screenshot
Scroll down for full removal instructions
SonicSearch is supposed to provide you with a "completely new" way of searching, and you will be no less than "blown away" by how your searching experience changes. Powerful words, to be fair, but more like hot air. As a matter of fact, this program simply generates revenue for its creators through the traffic it can direct to the affiliated websites. Since the creators get paid by the pay-per-click system, you can imagine that their main focus is on displaying as many ads on your screen as possible to get your attention and to make you click – and click again. However, these third parties may not always be trustworthy. Unfortunately, they might as well be criminals with dark intentions. If you click on a compromised ad, you may end up on an unsafe website operated by schemers. That is why it is never advisable to click on any ads because nobody can tell which ones are reliable and which ones are not. Removing SonicSearch can help you solve this dilemma.
Finally, let us give you the key to the successful elimination of SonicSearch. In fact, it could not be an easier task since this adware has an uninstaller. Therefore, you can uninstall it via Control Panel. If you are not experienced enough to do that, please follow our step-by-step instructions below. In order to make sure that your PC is all secure again, we suggest that you use a free online malware scanner. However, if it finds any intruder on your computer, you need to act fast.
Remove SonicSearch from Windows
Windows 8/Windows 8.1/Windows 10
Press Win+X and open Programs and Features.
Click on the application and click Uninstall.
Windows Vista/Windows 7
Access the Start menu and open Control Panel.
Select Uninstall a program.
Click on the application and click Uninstall.
Windows XP
Click the Start button and choose Control Panel.
Open Add or Remove Programs.
Click on the application and click Remove.
In non-techie terms:
SonicSearch is an application that may start displaying advertisements. However, not only are these ads distracting, but they might also expose you to potentially harmful third-party content. Since this ad-supported program can sneak onto your system along with other malware infections, its presence can mean multiple security issues. We advise you to remove SonicSearch before you have to face more severe problems.