Do you know what SocialNewPage is?
Although SocialNewPage promises easy access to your favorite social media sites, and it supposedly can inform you when your friends update content, this is not a program anyone should install onto their computers. The simplest reason behind this being that this application is worthless. When you install it onto your computer, it will provide links to facebook.com, linkedin.com, and other social media sites, but it will do nothing more than that. In fact, this supposedly beneficial program is not more useful than any regular toolbar that provides easy-access links. Well, this is not the only reason you should delete SocialNewPage from your browsers. Our expert malware analysts have recently tested this potentially unwanted program in our internal lab, and we can provide you with all the reasons why you should remove this PUP. Please continue reading, and, if any questions emerge, start a discussion below.
The main distribution channel for SocialNewPage is its official website, socialnewpage.com; however, our researchers have found that this program can be spread in a more suspicious way as well. It was found that this potentially unwanted program can be spread in software bundles along with malicious infections and other worthless programs. Whether or not malware spreads along with the PUP depends on the installer you execute, but, in general, it can be very difficult to say which programs are malicious and which ones are not. If you are not experienced, you might have trouble identifying malware, but you can use a malware scanner to detect truly dangerous programs. Are you hesitant to install a scanner? You can download a reliable scanner for free without committing to anything, and you should have no reservations about installing and using it to identify malware.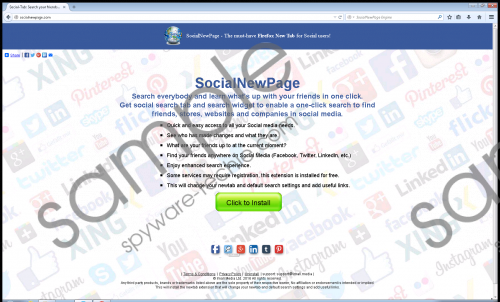 SocialNewPage screenshot
Scroll down for full removal instructions
MediaNewPage promises a slightly different service, but it is identical to SocialNewPage. Both of these potentially unwanted programs were designed by Imali Media, the same company that is also responsible for search.socialnewpagesearch.com. We classify this search tool as a browser hijacker because it can take over the homepage, search provider, and new tab tools on Firefox and Chrome browsers. The suspicious PUP is compatible with both of these browsers, and, when you install it, a hijacker slithers in as well. The thing is that this hijacker does not look suspicious, and you might choose to install it yourself, which is why many users use it as a normal search engine. Have you found this hijacker redirecting you to Yahoo? Although this might look harmless, unexpected redirecting is always worrisome. On top of that, the search results provided to you might be modified to promote third-party links, and we do not recommend interacting with them at all.
Your operating system might be infected with multiple threats, which is one of the reasons to implement anti-malware software. Although you can remove SocialNewPage along with the hijacker that comes bundled with it manually (all you need to do is remove the unwanted extension), it is smart to invest in a good anti-malware tool. First of all, it will reliably clean your operating system from all existing threats. Second, it will keep your PC protected in the future. Even if you decide to clean your PC manually, you should consider investing in reliable security software to ensure that you do not need to deal with malicious infections in the future. If you are trying to install anti-malware software, but existing threats are preventing you from this, scroll down to the instructions below (under the "in non-techie terms" section) to find an alternative solution.
Delete SocialNewPage from browsers
Mozilla Firefox
Launch Firefox.
Simultaneously tap Ctrl+Shift+A to access the Add-ons Manager.
Move to the menu on the left and click Extensions.
Identify the unwanted extension and click the Remove button next to it.
Google Chrome
Launch Chrome.
Simultaneously tap Alt+F to access the Chrome menu.
Select More tools and then click Extensions.
Identify the unwanted add-on, click the trash button, and choose Remove.
In non-techie terms:
SocialNewPage should assist you, but it is useless, and this is the first reason to delete it from your PC. The most important reason to eliminate this potentially unwanted program is that it implements a browser hijacker that redirects to a third-party search engine and potentially shows sponsored links. Although all users should be able to delete this PUP manually, we advise employing an anti-malware tool instead because of other threats potentially active on your PC as well as further protection of your operating system. If you are struggling with the removal of existing threats, start a discussion below.