Do you know what Social-enhancer is?
This application is a browser extension that is classified as a potentially unwanted program. The extension may come with a particular function that should improve your online experience, but it may also have specific features that could be deemed to be potentially risky.
The bottom line is that if Social-enhancer entered your computer without your permission or you did not intend to add the extension to your browser, it would be for the best to remove it from your computer. Luckily, it is very easy to deal with such browser extensions, and you can do it manually by following our instructions.
Another thing that makes it rather easy to take care of this issue is that Social-enhancer works only on the Chrome browser. On the other hand, we have also found that the add-on has an entry in the Chrome Web Store, and it makes it rather hard to call this application a computer security threat. After all, a decent malware infection would not be available out in the open. However, here you might say that you never planned to have this application, and you have no idea why this extension is in your browser.
All these questions can be answered when we take a look at the most common method of freeware distribution. Social-enhancer and other similar apps can be easily distributed in software bundles. Users download those software packages from file-sharing websites without giving it too much thought. What they do not consider is the potentially unwanted apps that might come in that package. You might want just one application, but if you choose to download it from a third-party source, you have to understand that you may end up installing apps like Social-enhancer on your PC, too.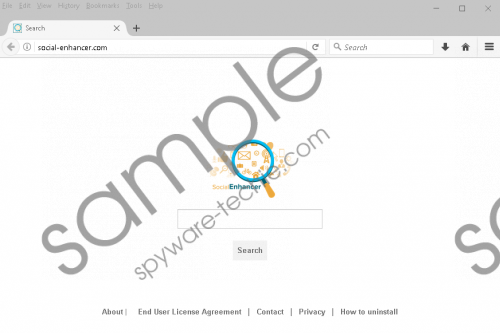 Social-enhancer screenshot
Scroll down for full removal instructions
This extension works on the same domain as many other unreliable search engines and browser hijackers, including obifind.com, photorext.net, pro-search.me, and so on. This proves that the application comes from a big family of potential computer security threats and that you need to be careful when such apps enter your PC. Of course, at first sight, it might seem that the program is there to improve your web browsing experience, but the fact is that the side effects of having this program on-board are way bigger than the benefits of using it. In fact, sometimes the program's behavior might seem so extreme; computer security experts may consider it a browser hijacker.
When this program enters your system together with other freeware apps, you probably do not notice that the application requests to modify your browser settings. If you go through the installation automatically, you agree to these modifications, too. As a result, the next time you open your browser, Social-enhancer changes your homepage and new tab settings to social-enhancer.com. Needless to say, the application also employs tracking cookies to collect information on your web browsing habits. This information is connected for online marketing purposes, and you can be sure to soon encounter commercial ads that will be targeted specifically at you.
Of course, such behavior is a lot more annoying than dangerous, but you need to realize that the application cannot control the third-party content it promotes. In other words, some of the ads might be embedded with corrupted content by third parties. Those third parties might as well be cyber criminals who exploit Social-enhancer for their own purposes.
Malware infection is the worst-case scenario when it comes to Social-enhancer and other potentially unwanted programs. However, it is always a possibility you have to consider. Hence, before any of that happens, you have to protect yourself and your computer from malicious exploitation.
It is very easy to remove Social-enhancer from your system, but when you are done with that, you should scan your computer with the SpyHunter free scanner. The point is that, if Social-enhancer arrived at your PC in a software package, you clearly have several unwanted applications you need to remove. Sometimes it might be hard to locate all the potential threats, so it is always a good idea to rely on a licensed antispyware tool.
Do yourself a favor and terminate all the unwanted programs automatically. With a powerful security application of your choice, you will be able to protect your PC from harm.
How to Remove Social-enhancer
Open the Chrome browser.
Press Alt+F and click More tools.
Open Extensions and remove the add-on.
In non-techie terms:
Social-enhancer might tell you that it is there to help you enjoy your web browsing experience. However, this application could also lead to severe computer security issues, especially if it gets exploited by cyber criminals. The best way to avoid it is to remove Social-enhancer from your system immediately. If you do not like manual removal, you can delete it automatically with a licensed antispyware tool. Should you have more questions about potentially harmful software or your system's security, please feel free to leave us a comment below.