Do you know what Snjsearch.com is?
It may come as a surprise to you, but Snjsearch.com is considered a browser hijacker that you ought to remove. The reason why you should do this is pretty simple. Being a browser hijacker means that it is distributed in a deceptive manner. It is injected into the browser without your knowledge or consent, and it may try to prevent you from rolling back the modifications it imposes on browser. This hijacker's modifications include changing the homepage or new tab page and the search engine/provider. The reason behind this malicious activity is money. This browser hijacker is set to feature promotions inside its search results which are unasked-for and annoying. Also, its promoted content comes from unknown advertisers, so the ads may be misleading.
Snjsearch.com is a product of a known malware developer called Imali Media Ltd. We have encountered dozens of its browser hijackers in the past, so we are quite familiar with this developer. It is an Israel-based company located in Tel Aviv, and it specializes in web monetization via browser hijacking — an advertising technique of the lowest possible grade. You can read more about its prior releases such as Search.internetquickaccess.com, Search.wondrousmoviessearch.com, and Search.wondrousmoviessearch.com on our website. Note that all of Imali Media's browser hijackers are similar, but their distribution methods may differ greatly.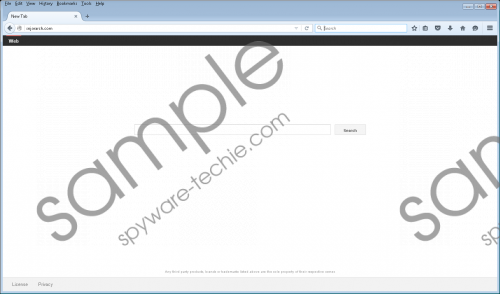 Snjsearch.com screenshot
Scroll down for full removal instructions
From the information we have gathered about Snjsearch.com we can say this. It may be distributed using several techniques. However, one of them is more effective than the rest. We have found that this browser hijacker comes with an accompanying browser extension that is installed on Firefox, Chrome, and Internet Explorer. This extension distributed via deceptive software bundles that hide this extension from plain sight. If you want to delete this hijacker from the installation process, opt for custom installation and uncheck its respective checkbox. Malicious software bundles containing this hijacker may be downloaded from Downthat.com, so remember to stay clear of this website. Another technique used for distributing this hijacker is including it as the default new tab page and search engine on a Chromium-based web browser but cannot say for sure if they are still around.
When you install its accompanying browser extension or program, it will configure Internet Explorer, Chrome, and Firefox to feature Snjsearch.com as their homepage/new tab page and search engine. The extension may prevent you from changing the modified settings, so you have to uninstall it for your changes not to be overriden.
Snjsearch.com functions as a typical search engine. However, it is not a real search engine since it redirects all search queries to Yahoo.com. Nevertheless, it is connected to several servers that give instructions to display specific promotions are included in the custom version of Yahoo.com. Since its developers do business with anyone who is willing to pay, it is quite likely that its promotions will redirect to questionable websites that may feature malicious content, such as software downloads. Here is a quote from Snjsearch.com that reads:
Imalimedia may, at its own discretion and for its causes, include within the Website any links for third party websites, advertisements or links for applications ("Third Party Content"). Imalimedia does not warrant for Third Party Content or availability thereof nor does it endorse it. Imalimedia shall not be held, or claimed to be held, liable for any 3rd Party Content, its legality or illegality, its adequacy with regulations and its quality.
So this hijacker's developers will not take responsibility for their promoted content which just goes to show that they often and perhaps willingly and unwillingly promote malicious content that can jeopardize your computer's security. However, they do not care about that as long as they get paid.
We also want to inform you that Snjsearch.com will collect certain information about you which will be used for advertising and marketing purposes. It can collect two types of information — personal and non-personal. As stated I its privacy policy, non-personal information includes "your IP address, referral data, and browser and platform type." This information is collected automatically, without your consent. However, from time to time, this malicious search engine will ask you for personal information which you can provide on a voluntary basis. Again the privacy policy states that the requested information may include things "(such as name, e-mail address, shipping address, and zip code), and demographic information (such as age, gender, occupation, and household income)." However, we encourage you not to provide such information to any unknown entity, because it may result in identity theft.
Summing up, Snjsearch.com is far from a legitimate search engine. We have classified it as a browser hijacker due to its dissemination techniques. Its developers use deceptive software bundles to install it secretly. If successful, this hijacker will automatically change your browser's homepage and other settings to this hijacker. And, then promote possibly malicious content and keep tabs on you. So soothing good will come from using it as your search engine so do not hesitate to remove.
Removal guide
Windows 10
Type Control Panel in the search bar found on the Taskbar.
Click Uninstall a program.
Find the application and right-click on it.
Click Uninstall.
Windows 8 and Windows 8.1
Open the Charm bar.
Click Settings and go to Control Panel.
Open Uninstall a program.
Find the application and click Uninstall.
Windows 7 & Windows Vista
Click Start.
Select Control Panel.
Click Uninstall a program.
Locate the malware.
Click Uninstall.
Windows XP
Open the Start menu.
Click Control Panel.
Select Add or Remove Programs.
Locate the malicious software.
Click the Remove button.
Remove browser extension
Google Chrome
Press Alt+F.
Select More tools.
Click Extensions.
Find the extension.
Click Remove.
Microsoft Internet Explorer
Press Alt+T.
Select Manage add-ons.
Click Toolbars and extensions.
Find the add-on and click Remove.
Mozilla Firefox
Press Ctrl+Shift+A.
Select Extensions.
Find the add-on and click Remove.
In non-techie terms:
Snjsearch.com is another browser hijacker released by Imali Media Ltd. Its main objective is to change your browser's homepage or new tab page and search provider to force you to use it for your daily searches. Unfortunately, its search results contain links to third-party websites and we believe that some of them may be malicious. Also, it can collect information about you to tailor the ads, and thus, increase advertising revenue. In short, this alleged search engine is bad news, and you should remove it for your computer security's sake.