Do you know what SnipSmart is?
SnipSmart is a browser add-on displaying special offers, online deals, and coupons, and, if you want to reduce the risk of accessing a deceptive website, you should remove SnipSmart from the computer as soon as you can. SnipSmart may seem a useful program because it enables you to review various commercial offers, some of which are not related to your browsing interests. Moreover, the fact that it is promoted at snipsmart.info does not mean that you can trust this program. SnipSmart falls to the category of adware because it displays third-party advertisements and accepts no responsibility for the content of the advertisements delivered to you.
SnipSmart is a product of SuperWeb LLC, which is the owner or DoughGo, Glomatron, Zippy Zarp, and many other identical programs. SuperWeb's programs are advertised on very similar websites, and the only major difference is that different domain extensions are used, including .com, .co, .org, .net, .info, and some others.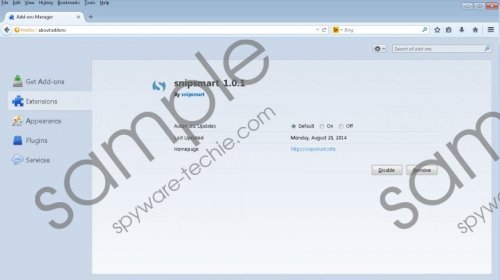 SnipSmart screenshot
Scroll down for full removal instructions
SnipSmart is compatible with Internet Explorer and Mozilla Firefox. Once you install the program, it starts monitoring your online actions. The program records your clicks, impressions, search terms, browser settings, browsing history, browser type, information about the operating system, and some other anonymous details. SnipSmart records information so that the developers of the program can draw some conclusions about your browsing behavior and send targeted advertisement to your browsers to enhance your online experience. It is possible that some personally identifiable information will be recorded by the program, and the risk of exposing your personal information to SnipSmart increases when you browse social media websites. If you want to be secure on the Internet and avoid contextualized advertisements, you should remove SnipSmart from the computer.
Keep in mind that SnipSmart is not associated with the sponsors; moreover, the developers of the program are not liable for the activities of those third parties, which means that you use the program at your own risk. You should ignore advertisements promoting online quizzes, contests, updates, and new software programs, such as media players, because such offers may be related to phishing websites, and you do not want to risk your privacy.
When it comes to removal, we recommend that you implement SpyHunter because this security tool can easily eliminate the adware program and safeguard the system against multiple threats, including Trojan horses, rogue anti-virus programs, browser hijackers, adware programs, and many other threats. It is possible to uninstall SnipSmart because the program creates its uninstaller; however, after uninstalling the program, your PC remains unprotected. If you want to be sure that you are secure on the Internet, do not hesitate to install our recommended program.
How to remove SnipSmart
Windows Vista and Windows 7
Click Start.
Select Control Panel.
Click Uninstall a program.
Remove the unwanted program.
Windows 8
Move the mouse pointer to the lower-left corner of the screen.
Right-click.
Select Control Panel.
Click Uninstall a program.
Remove SnipSmart.
Windows XP
Open the Start menu.
Click Control Panel.
Select Add or Remove Programs.
Uninstall SnipSmart.
In non-techie terms:
If you want to have SnipSmart removed for you, implement our recommend security program. Below you will find our instructions that will help you install the program.