Do you know what Snapsearch is?
Snapsearch is a deceptive adware program that masquerades as something it is not. We are certain that this program will not improve anyone's browsing experience by showing vast amounts of undesirable advertisements. It is recommended that you remove this application is a timely manner, because prolonged exposure to commercial content will definitely get your computer infected with more malicious software or will spy on you, you commercial advertisements and modify your System's registry. If you want to know more about this annoying piece of software, we invite you to read the full article.
The only way you got this program is by downloading free software. Software developers often agree to bundle their applications with the likes of adware in order to lower development costs or even make a small profit. Sometimes, the owners of freeware websites take on themselves to bundle legitimate apps with adware and collect all of the profit. So be ware when downloading freeware, because it might contain an unpleasant surprise. Snapsearch has been recently rolled out by the SuperWeb Company, which is infamous for releasing vast amounts of adware clones for a number of years. That being said, we must mention some more recently released clones, such as Walermis, Thirteen Degrees, JoomiWeb, and Coupons Free. The aforementioned applications are distributed using the same means as Snapsearch but function exactly the same. So let us talk about how this application works.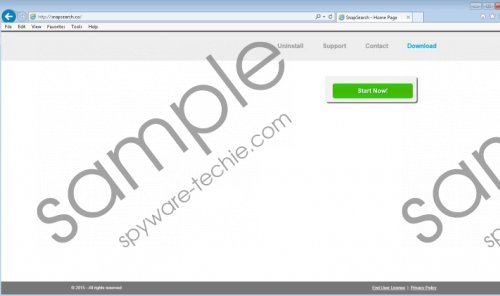 Snapsearch screenshot
Scroll down for full removal instructions
Snapsearch will render commercial advertisement once you open your web browser. It is a versatile application, so it will display coupons, banner, in-line texts, and even video ads on almost every website that you will visit. It will even show coupons in Google's search results, so it is quite intrusive indeed. Due to the fact that the ads are supplied by largely unknown third parties and are not endorsed by the application's developers makes them open to doubt. We have seen some fictitious messages claiming that a computer is infected and must be scanned with an antivirus program which in really does not work. Furthermore, Snapsearch can display fake Java updates that might get your computer infected with more adware.
As if that was not enough, this application has the ability to keep tabs on your browsing activities, and collect information about you. This information includes, browsing and search history, browser and computer specifications, IP addresses, and so on. This information is used to modify the advertisements in order to make them more appealing so that the developers could make more money. On top of that, the information might be sold to third parties and probably misused.
As you can see, Snapsearch is a pure adware application. It does not have any useful functions. All it can do is render unasked-for third-party ads that will annoy you and might even be dangerous. Although not every ad I dangerous, some of them might be. Therefore, we do not recommend taking any risks and invite you to remove Snapsearch right now using our manual removal instructions.
How to remove Snapsearch from the OS
Windows 7 and Windows Vista
Click Start.
Select Control Panel.
Click Uninstall a program.
Find the unwanted program and click Uninstall.
Windows 8 and Windows 8.1
Open the Start Screen.
Type Uninstall in the search box and then go to Settings.
In the search results, click Uninstall a program.
Find the application and click Uninstall.
Windows XP
Open the Start menu.
Click Control Panel.
Select Add or Remove Programs.
Find the undesirable application and click Remove.
Remove Snapsearch from the browser
Mozilla Firefox
Press Ctrl+Shift+A.
Click Extensions and Remove the extension.
Microsoft Internet Explorer
Press Alt+X.
Click Manage Add-ons.
Click Toolbars and Extensions.
Remove add-on and click Close.
Google Chrome
Press Alt+F.
Click More Tools.
Click Extensions and Remove the plug-in.
In non-techie terms:
You ought to remove Snapsearch, because it is just an adware application that will display unreliable third-party advertisements. Clicking the ads might result in your PC becoming infected with more malware. In addition, Snapsearch has a built in capability of collecting information about your browsing habits and might share it with third parties. all in all this application is just plain useless, so feel free to remove it.