Do you know what Snail Translator is?
Snail Translator is a software application that translates words, phrases or pieces of text in French, English, etc. Although the application seems to be functioning just fine, we have to warn you that it might display fake system alerts. According to our researchers, the purpose of this scheme might be to trick you into paying for technical support or purchasing overpriced software. This unwanted behavior is the main reason the software was categorized as a potentially unwanted program (PUP). Needless to say, you should not pay any attention to this fake system alert and if you want to get rid of it, removing this suspicious application from your computer would be a great idea. In the rest of the article, we will tell you all you have to know about this PUP and below the text you will find the deletion instructions.
As we mentioned above, the software does what it promises, but once installed it should download its malware module from analytic-report.com. Afterward, it will regularly display fake system notifications that will ask you to activate your Windows in a day. The original message looks like this: "You Must activate Windows within 1 day to continue using all Windows features." This pop-up imitates system alerts and looks very convincing, although if you have ever seen a similar window, you should be suspicious of the given telephone number. Not to mention that the grammatical mistakes in a well-known operating system do not look right either.
It seems that the given phone number (1-888-479-3649) is supposed to connect you to the technical support that would help you activate Windows. Naturally, we do not advise you to call it, since this is obviously a scam. Also, there is a link called "Activate By Chat" that is meant for the same purpose, but it would be better to avoid clicking any links provided in the pop-up too, mainly because you can grant these cyber criminals access to your computer without realizing it. If they can enter your system, they might try to scare you by messing it up. We believe that the primary goal is to scare you enough, so you would be willing to pay for expensive software or technical support that you do not need.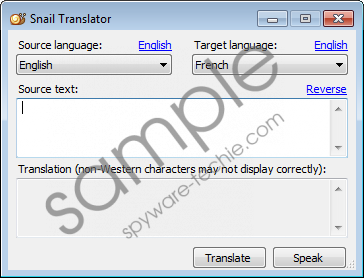 Snail Translator screenshot
Scroll down for full removal instructions
Snail Translator is only one of the many suspicious programs that work in this way. In fact, it has a clone called Quicky Translator, just instead of reporting Windows problems, it claims that there is a virus in your system. Also, we could name other similar programs that we have encountered in the past, such as Youtube Downloader, Book Source, and many others. Unfortunately, malicious programs are being created daily, so we would advise you to take additional measures if you want to protect your computer. For example, this PUP could be spread bundled with suspicious software through file-sharing websites. You should download programs only from reliable sources and do not forget to gather more information about the application, e.g. read users' reviews. For guaranteed protection, you can always install a legitimate antimalware tool.
Even though the application is rather troublesome, its removal is quite simple. The manual deletion can be done if you go to your Control Panel and just uninstall Snail Translator. After this step, do not forget to delete Snail Translator's folder in the %windir% directory. If you complete these actions you should erase the software completely and the fake alerts will not disturb you anymore. Step by step instructions are available below this text. Also, you could delete the application with a trustworthy security tool if you click the download button. Once it is installed, you should scan your system with the given tool. When the scan is complete, the PUP will be located, and you can delete it with a mouse click.
Delete Snail Translator
Windows 10 & Windows 8
Launch the RUN by pressing Win+R.
Type Control Panel and press Enter.
Choose Uninstall a program.
Find Snail Translator, select it and click Uninstall.
Windows 7 & Windows Vista
Go to Start menu and launch Control Panel.
Pick Uninstall a program.
Select the PUP and click Uninstall.
Windows XP
Click on Start and select Control Panel.
Click Add or Remove Programs.
Mark the unwanted application and choose Uninstall.
Remove remaining leftovers
Open the Explorer and insert given directory %windir%
Locate folder titled as Snail Translator.
Right-click the folder and select Delete.
In non-techie terms:
Snail Translator does the job it is supposed to do, but due to suspicious activities, it cannot be trusted. It would not be wise to give it another chance for these fraud attempts. Therefore, we would recommend you removing this PUP from your computer before anything bad happens. You can erase it from your system with the instructions available above or with a legitimate security tool.