What is SMSFromBrowser Toolbar?
Our research team has come across a rather new malicious toolbar called SMSFromBrowser Toolbar that you should remove. Allegedly, the application has been set to provide users with a free SMS sending platform. However, basically, the application just features links to various websites that claim to provide such as service. Whether or not the free SMS services work will not be discussed in this article, because we will focus only on the toolbar itself. Regardless of whether you find this application useful, you should not keep it due to its unreliable search engine and the programs ability to collect non-personally identifiable information.
Have you ever heard of Mindspark? If you have then you know exactly the kind of application you are dealing with, but if not, you should be aware that this software developer is responsible for releasing multiple malicious toolbars for the purpose of promoting a search engine owned by Mindspark. SMSFromBrowser Toolbar is just a new manifestation of an old line of toolbars, which includes MergeDocsOnline Toolbar, UnzipApp Toolbar, FunCustomCreations Toolbar, and many others.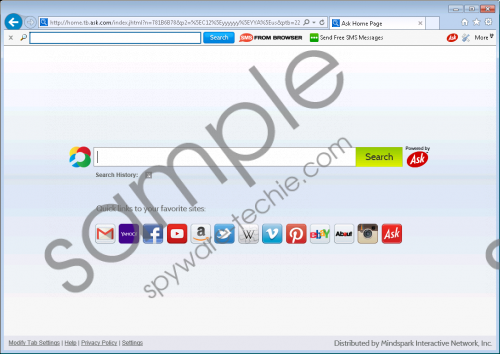 SMSFromBrowser Toolbar screenshot
Scroll down for full removal instructions
SMSFromBrowser Toolbar can be downloaded from its dedicated download website at Smsfrombrowser.com. The website design is all too familiar to us. It does not have a lot of information about this toolbar, but the laconic advertising slogans and simple images invite you to download it. We recommend you to read the End User License Agreement for more information, but we will cover the most relevant points from it a bit later. This toolbar can also get installed on your computer via software bundles. It has been long known that Mindspark pays freeware distributers to include their toolbars in software bundles (examples: download managers, PDF creators, media players). You can avoid installing SMSFromBrowser Toolbar by opting for advanced/custom installation settings.
However, if you unintentionally install this toolbar on Firefox or Internet Explorer, the browser will ask you if you want the toolbar to change the homepage and search engine to Home.tb.ask.com. On Chrome the search engine and search provider will be changed automatically, but the browser will ask you if you want to rollback the changes. The search engine is a customized version of Ask.com, which is owned by Mindspark. The search engine can collect non-personally identifiable information about you when you use it. It collects IP addresses, technical information about the PC, search queries, and so on.
If you sign up to Mindspark's services or try to contact them, the company will collect and store whatever personal information you provide, including user name, first and last name, email address, phone number, and so on. You might start receiving spam mail that promotes potentially unreliable third-parties. And the search engine itself may promote favorable partner websites that might actually be infected and contain malware downloads. Therefore, we recommend that you remove SMSFromBrowser Toolbar.
As you can see, SMSFromBrowser Toolbar is a browser extension that is used to promote an unreliable search engine that promotes various third parties. the application and other Mindspark services collect personal and non-personal information about you, which might be used to for marketing purposes, such as supplying you with unreliable commercial ads. Therefore, we are of the opinion that you should remove SMSFromBrowser Toolbar immediately.
Remove SMSFromBrowser Toolbar
Google Chrome
Simultaneously press Alt+F.
Open More tools.
Select Extensions.
Click Remove SMSFromBrowser Toolbar.
Mozilla Firefox
Simultaneously press Ctrl+Shift+A.
Select Extensions.
Click Remove SMSFromBrowser Toolbar.
Internet Explorer
Simultaneously press Alt+X.
Choose Manage Add-ons.
Click Toolbars and Extensions.
Click Remove SMSFromBrowser Toolbar and click Close.
In non-techie terms:
SMSFromBrowser Toolbar is considered a malicious application that often uses deceptive means to distribute it, namely software bundling. The program's true purpose is to promote a custom search engine that in turn promotes third-party websites. In addition to that the application can collect information about you, which is used for marketing purposes. So, if you do not want to be subjected to unreliable content, we suggest that you remove this application as soon as possible.