Do you know what Smart System Care is?
Smart System Care is a product released by the PC Fixer Tools company. It is advertised as beneficial software for those users who want to have a fast malware-free computer, so many users expect it to clean their systems, fix existing errors, and improve the overall system's performance. Unfortunately, what they do not know about it is that it only pretends to be a free scanner. In reality, it does not act beneficially until users upgrade it. We have not tried purchasing its license, so we cannot promise that its full version works well either. If you need more proof that this application is not fully trustworthy, read this article till the end. You will find it thoroughly explained there why Smart System Care had been classified as a potentially unwanted program, or PUP, by specialists. Also, it should be easier for you to erase it if you read this entire report.
Although Smart System Care has an interface of a legitimate PC optimization tool and performs a system scan the second it appears on a user's computer, it still cannot be called a trustworthy application, in the opinion of our team of experienced specialists. Researchers have found several serious drawbacks of this piece of software, so, according to them, it cannot be considered reliable. The first drawback is associated with the scan results it displays after performing a system scan. Specialists have noticed that it does not detect any serious issues and might even consider legitimate applications, e.g. WinRar as untrustworthy software. Therefore, you should ignore the number of issues found. Its free version not only shows untrustworthy scan results, but it also cannot fix a single PC issue. When users click on the Repair button, they are offered to purchase its license for 23.95 EUR. It is very likely that it will not start working as a decent tool even if you upgrade it, so you should keep the money to yourself or invest it in a fully trustworthy PC optimization tool.
If you have decided not to purchase the license of Smart System Care, go to remove this program from your system because it will continue working on your PC. As a consequence, you might see annoying pop-ups offering to purchase software at a discounted price. Additionally, it will use your Internet connection, so its speed might considerably decrease. Finally, if this program is left active on the system, it will be opened automatically with the Windows OS despite the fact that you closed it a moment ago. It is impossible to change its settings, so the only way to stop it is to delete it. In this sense, Smart System Care shares similarities with SystemKeeperPro and System Healer, which are known to be potentially unwanted applications too.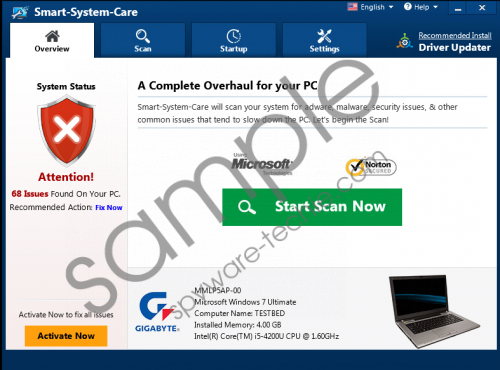 Smart System Care screenshot
Scroll down for full removal instructions
Our team of researchers could not find an official website of Smart System Care. This suggests that bundling is the main method used to distribute it because this piece of software is getting more and more popular. According to our specialists, it, most probably, does not travel alone – it should be spread next to free applications developed by third parties. It has been noticed that users often get such software bundles if they download software from file-sharing websites frequently. If you cannot remember downloading anything recently, this potentially unwanted program could have entered your computer in a different way. You need to remove it no matter how it has shown up on your system, so do not postpone the removal process.
You can delete Smart System Care using Control Panel, i.e. just like any other application, but make sure you click on the No, I want to uninstall button located on the uninstall window if you do not want to end up with new software on your computer. You can remove this program automatically too – this is a removal method less experienced users should employ instead of trying to erase this PUP manually.
Remove Smart System Care
Windows XP
Click on the Start button.
Select Control Panel.
Click Add or Remove Programs.
Select the undesirable application and click on the Remove button.
Windows 7/Vista
Click on the Start menu button to open it.
Click Control Panel and go to Uninstall a program.
Right-click on Smart System Care.
Uninstall it.
Windows 8/8.1/10
Press Win+X simultaneously.
Click Control Panel.
Open Uninstall a program.
Select the undesirable program and click Uninstall.
In non-techie terms:
You should already know that potentially unwanted programs can enter computers in software bundles. Most probably, a software bundle has been installed on your computer too if you have Smart System Care on your PC but cannot remember downloading it. If it is true, it means that there might be other untrustworthy third-party applications installed on your computer too – potentially unwanted programs and other dubious applications are usually not spread alone in these "software packages".