Do you know what Smart Pc Mechanic is?
Smart Pc Mechanic is a potentially unwanted program (PUP). When we deal with such applications, it is important to note that PUPs are not direct computer security threats. They are more like side-effects that enter your system with some other application you have downloaded quite recently. Therefore, when you remove Smart Pc Mechanic from your computer, you have to find all the other programs you have downloaded and installed together with this application to delete them as well. After all, your system's security should be one of your top priorities.
We would like to point out that this program has an official website, so it is more than obvious that the application is not a dangerous infection. You can check out the official homepage at smartpcmechanics.com. In fact, the homepage looks user-friendly and sophisticated, and there is not a single sign that would tell you this program is potentially harmful or unwanted. In fact, when you open the homepage, you are greeted with a promotional line that says you can "speed up your Windows PC with "Smart PC Mechanic." Below this line, you will find the Download button that works just fine.
More often than not, we encounter official websites for programs that look like empty shells. Websites that were created just to make an impression that particular programs are reliable and you should trust them. So it is rather refreshing to find a website that is not an empty shell. A website that does everything a homepage should do: it introduces Smart Pc Mechanic, it allows you to download the application, and it even looks like it can help you with the customer support. All of that allows users and researchers to assume that Smart Pc Mechanic is very far from a malicious computer infection.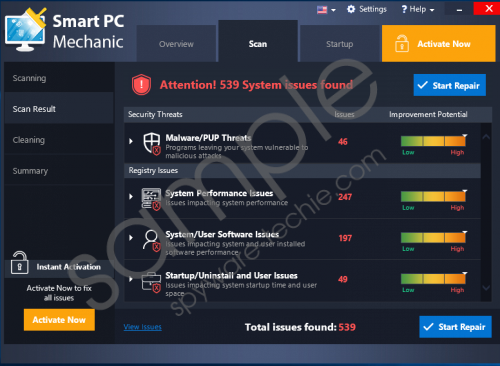 Smart Pc Mechanic screenshot
Scroll down for full removal instructions
However, here you might stop and ask why Smart Pc Mechanic is on your computer if you do not remember installing it. How come it is there when it is not a malicious infection? Well, if you really did not download this application from its official website, we have to take a look at the overall freeware distribution pattern that is clearly employed by this program as well. The thing is that official websites are seldom the only distribution sources out there. Freeware programs can come bundled in a software package, especially if you often download apps from file-sharing websites. Downloading programs from third-party sources can often result in unwanted software installation, so to avoid that, you should read all the installation steps carefully.
Nevertheless, Smart Pc Mechanic enters your system, and then what? According to the official website, Smart Pc Mechanic "is a state of the art technology. It was coded by industry experts by a combined industry experience of 32 years. Designed and tested with utmost care to keep your PCs running smooth, fast and error-free." So technically, if you use this application, it should optimize your system's performance, finding and fixing various issues.
It sounds nice and all, but computer security experts always point out that system optimization tools should be treated with utmost care. It is very often that they cannot do much, except for downloading temporary files that have been stored on the system. And there are cases when programs like Smart Pc Mechanic end up deleting important Registry entries and thus crippling your system. Not to mention that the program can also collect your personal or system information for marketing purposes. It means that the longer Smart Pc Mechanic remains on your computer, the bigger is the possibility that you will encounter some commercial content. And this commercial content could easily be associated with security threats you should not face.
Therefore, if Smart Pc Mechanic was installed on your computer accidentally, you will do yourself a favor by removing this application to day. Luckily, you can uninstall the program via Control Panel, and it should be enough to terminate everything related to it. However, if you think that there might be potential threats on-board, you can always scan your system with the SpyHunter free scanner that will find more unwanted programs (if present). Finally, you should make sure that no similar intruders enter your system again by employing safe web browsing habits.
How to Remove Smart Pc Mechanic
Windows 10 & Windows 8.1
Press Win+R and type Control Panel. Press OK.
Go to Uninstall a program and remove Smart Pc Mechanic.
Windows Vista & Windows 7
Open the Start menu and click Control Panel.
Select Uninstall a program and remove Smart Pc Mechanic.
Windows XP
Click the Start button and select Control Panel.
Access Add or remove programs and uninstall Smart Pc Mechanic.
In non-techie terms:
Smart Pc Mechanic may enter your system accidentally, but it does not mean you should keep it there. This program is often associated with potentially unwanted and intrusive activity that should not be tolerated. Please remove Smart Pc Mechanic right now and then look for other unwanted programs that could have entered your system together with this optimization tool. If you think you cannot do it on your own, you can acquire a powerful security program that will do everything for you automatically.