Do you know what Sliding Coupons is?
A ton of unwanted third-party web content within your browser is a sign that an adware program is active on your PC. Sliding Coupons might be the adware in question. If you have found this ad-supported application up and running on your operating system, you must know that the only thing that should be done about it is its complete removal as soon as possible. It is important to know that this adware program uses devious marketing strategies to trick users into installing it. On its official website, this questionable program is marketed as an excellent online shopping tool. According to the statements on the website, this program should provide you with best discount deals and great coupons while you are shopping online, meaning that it should help you save time and money while you are shopping online. In reality, this adware program is only capable of causing major disturbances while you are browsing the web. Do not hesitate to use the removal guide provided below to get rid of Sliding Coupons.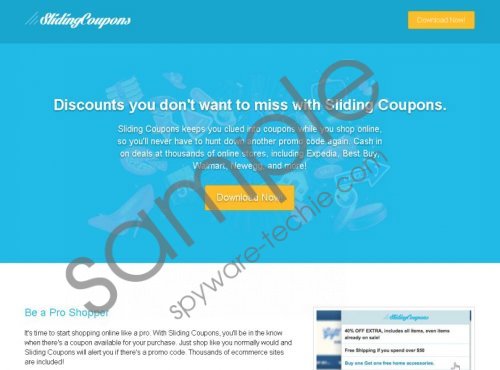 Sliding Coupons screenshot
Scroll down for full removal instructions
This adware will connect to various suspicious adware servers as soon as it gains access to your operating system. These connections are mainly made by the extension that Sliding Coupons inserts to your web browser. Eventually, your browser will get flooded with various third-party commercial ads and annoying pop-ups. All of these ads and pop-ups are absolutely irrelevant; thus, in fact, this adware will not help you save time or money while shopping online. Mostly the unwanted web content will be presented to you in an utterly random way, whether you like it or not. All that this adware will do is only make browsing the web the way you are used to virtually impossible since you will need to fight through those unwanted third-party ads and annoying pop-ups. If you wish to restore the standard functionality of your browser, you will need to conduct a thorough removal of Sliding Coupons; otherwise the annoying activity will continue to frustrate you.
Unfortunately, it has been discovered that there is something much more alarming about this adware than you might think. Some ads provided by Sliding Coupons were found to be implemented with redirect links. This is an extremely dangerous situation because of the possible consequences that it could lead to. By clicking on an ad provided by this adware, you could be redirected to a suspicious or even a potentially malicious website. For example, you could be taken to a website that has an active arbitrary code execution exploit, meaning that just entering such a site is enough to get your operating system infected with some malware. Obviously, this adware poses major virtual threats that should not be faced by any users. Do not hesitate to delete Sliding Coupons once and for all by using the removal guide below.
The removal guide that we provide should be followed with your utmost attention since a single mistake could mean that Sliding Coupons has not been removed entirely. This could have devastating outcomes as well since some other Internet-based infection could use leftovers of Sliding Coupons as a security breach to enter your system in a quick and easy way. Avoid such circumstances by conducting an in-depth analysis of your PC for potential leftovers of this adware because this is the only way to be sure that every single bit of this adware was removed.
How to remove Sliding Coupons from your web browser
Google Chrome
Open your web browser.
Simultaneously tap Alt+F.
Select Tools.
Cick Extensions.
Click the recycle bin icon next to the undesirable add-on.
Click Remove.
Internet Explorer
Start the browser and simultaneously tap Alt+T.
Select Manage Add-ons.
Select Toolbars and Extensions.
Remove the undesirable plugin.
Click Close.
Mozilla Firefox
Launch the browser and then simultaneously tap Ctrl+Shift+A.
From the menu on the left select Extensions.
Remove the undesirable plugin.
How to remove Sliding Coupons from your PC
Windows Vista and Windows 7
Tap the Windows key located on your keyboard.

Select Control Panel and click Uninstall a program.
Double-click the unwanted program.
Confirm that you want to remove this adware.
Windows XP
Click Start and then select Control Panel.
Click Add or Remove Programs.
Remove the unwanted program.
Windows 8
Move the mouse pointer to the lower-left corner of the screen.
Right-click and select Control Panel.
Click Uninstall a program.
Right-click Sliding Coupons and select the Uninstall option.
In non-techie terms:
If you a user that does not feel comfortable performing manual removal and analysis of your operating system your self, you should not worry. Our research team has put up an alternative removal guide that will help you delete this adware in an automatic way. Follow the instructions below to do so.