Do you know what SkinnyPlayer is?
SkinnyPlayer is a potentially unwanted program that is supposed to play videos. It is promoted as a "free and lightweight media player for Windows." The program itself is not dangerous at all, but it is associated with particular applications that could prove to be detrimental to your system's security. Thus, you should seriously consider all the potential risks before you click the Download button and install this program. If, by any chance, you got this application accidentally, please remove SkinnyPlayer immediately. Prolonged exploitation of this application could result in particular computer security risks one should avoid.
The official website for the application can be accessed via skinnyplayer.org, and it is very simple to download the program. Thus, it is highly possible that users who are looking for an alternative video player come across this website and download SkinnyPlayer. On the other hand, seeing how this application is not the most popular video player out there, it is far more likely that it arrives at target systems in software bundles. That would explain why security experts receive so many complaints about the program and its behavior. After all, if users had wanted to have this program, they would not be complaining about it, right?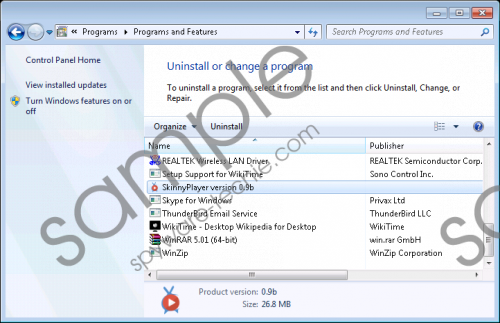 SkinnyPlayer screenshot
Scroll down for full removal instructions
That is why we think that it is far more often that users download and install SkinnyPlayer bundled with other applications. Users simply miss the chance to deselect this video player as they breeze through the installation wizard. Third-party installers often allow users to choose which additional programs they want to leave out, especially if users select the custom installation option. However, when users are too pressed about installing some program, they seldom take notice of all the messages they see on the setup wizard. Consequently, SkinnyPlayer and other potentially unwanted programs manage to settle on your system.
Just like with most of the potentially unwanted programs, SkinnyPlayer itself cannot infect you with malware, but the application is able to connect to the Internet behind your back and download more programs onto your computer. For instance, during our tests we have found that SkinnyPlayer can download the oursurfing.com browser hijacker BoBrowser (a potentially unwanted program) and other undesirable applications. If a program can infect you with a browser hijacker, you can easily overlook all the positive aspects of keeping it. Unless you remove SkinnyPlayer right now, it is very likely that quite soon your system will be attacked by malicious threats that will steal your money and will ultimately cause your system to crash.
While uninstalling SkinnyPlayer is not much of a problem, you may encounter some difficulties trying to find other unwanted and potentially harmful programs. To make the task easier, run a full system scan with the SpyHunter free scanner. When the scan is complete, make sure you get rid of all the programs that appear on the scan results list.
Further, to protect your PC from similar unwanted applications, you should invest in a powerful antispyware tool and keep it updated. If you need any recommendations about which program you should use, do not hesitate to leave us a comment. Our team will reply as soon as possible to assist you.
How to Remove SkinnyPlayer
Windows 10 & Windows 8.1
Right-click the Windows icon on the left corner of your taskbar.
Click Control Panel on the drop-down menu.
Go to Uninstall a program and remove SkinnyPlayer.
Windows Vista & Windows 7
Open the Start menu and click Control Panel.
Click Uninstall a program and remove SkinnyPlayer.
Windows XP
Click the Start button and navigate to Control Panel.
Select Add or remove programs and uninstall SkinnyPlayer.
In non-techie terms:
SkinnyPlayer is a video player application that is known to download more unwanted and potentially dangerous programs on target computers. If you installed it accidentally, it is about time to remove SkinnyPlayer from your system and protect your system by acquiring an antispyware application of your choice. If you need any assistance with software removal, please contact us by leaving a comment below. Do everything you can to prevent malicious infections from entering your system.