Do you know what Sirius Win XP Antivirus 2014 is?
Sirius Win XP Antivirus 2014 is an annoying rogue antispyware application that does not allow you to operate your computer properly. It will perform numerous system scans displaying lists of countless infections that are supposedly present on your system. However, it goes without saying that anything Sirius Win XP Antivirus 2014 says is a lie. Fake antivirus programs operate on false grounds, and they simply need your money – the sooner you give away your credit card data, the better. Avoid that from happening by removing Sirius Win XP Antivirus 2014 right now.
It may be hard to terminate Sirius Win XP Antivirus 2014 on your own because only experienced computer users should attempt manual removal. Nevertheless, there is no need to panic. We know exactly what to expect of Sirius Win XP Antivirus 2014 because we have see such applications before. The rogue belongs the Braviax family of fake antivirus applications (also known as FakeRean). All programs from this adapt their titles based on the operating system that it is installed on your computer. So whether we have to deal with Sirius Win XP Antivirus 2014, Sirius Win 7 Antivirus 2014 or Sirius Win 8 Antivirus 2014, it is still the same program!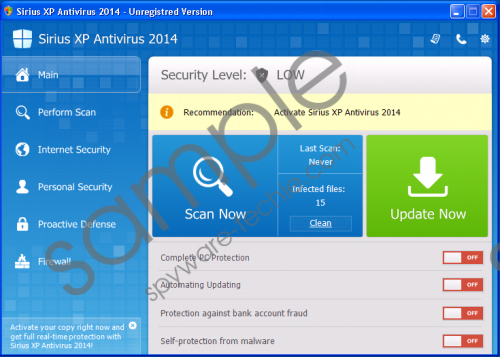 Sirius Win XP Antivirus 2014 screenshot
Scroll down for full removal instructions
The same tactic was employed by other infections from the same group, for example, Rango XP Antivirus 2014, Vista Protection 2014, Windows 7 Antivirus 2014, and many others. They enter target computer surreptitiously, and then perform specific changes on Windows registry that allows the rogue to load automatically each time you boot the system. Hence, do not be surprised if your computer suddenly restarts and the next time your system loads, Sirius Win XP Antivirus 2014 scan windows pops up into your screen – it is going to pester you until you succumb and click the "Activate" button.
On the other hand, if you want to keep your money same (and we assume that you do), you will ignore all the scan results and other annoying messages that Sirius Win XP Antivirus 2014 will keep on displaying on a regular basis. Instead, you have to restart your computer in Safe Mode with Networking and get yourself a reliable computer security application.
Safe Mode with Networking is necessary because otherwise Sirius Win XP Antivirus 2014 blocks all the important programs and, as a result, you cannot access the Internet. When you remove Sirius Win XP Antivirus 2014 automatically, make sure that you run a complimentary system scan because there might be some additional malicious programs installed on your computer. Do not forget that malware seldom travels alone. Follow the instructions below for a full malware removal.
In non-techie terms:
Sirius Win XP Antivirus 2014 is a fake antivirus program that looks and behaves like a genuine security application. However, it has been created to swindle you out of your money, so you have to delete Sirius Win XP Antivirus 2014 from your computer immediately. For any further questions on this infection or computer security in general, please leave us a comment in the box below.