Do you know what SingAlong is?
SingAlong is a browser plug-in that is categorized as adware application. It means that rather than doing what it promises to, SingAlong is more prominent in displaying adware pop-ups that interfere with your web browsing process and expose you to potentially dangerous content. If we were to believe information provided at the official homepage (singalong.co), the application is supposed to turn your YouTube video watching in karaoke sessions, however it is recommended to remove SingAlong, because the app also displays ads and shopping suggestions.
According to our security research, SingAlong can be placed into the same group as other applications from Lyrics adware family. It seems like an entertaining browser add-on at first, but in reality it is directly associated with Jollywallet adware application and OnlineBrowserAdvertising, because it distributes its pop-up ads and displays them while you browse YouTube.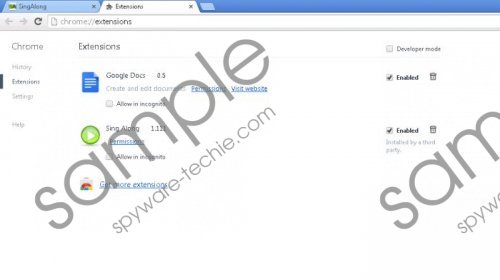 SingAlong screenshot
Scroll down for full removal instructions
It should be pointed out that singalong.co does not contain a direct download link – clicking the Download button does not initiate SingAlong download. Thus, it means that this application usually arrives bundled with freeware, just like the majority of other adware programs. You may not even notice that you have SingAlong installed, because the application does not have any installation wizard, although you may get an installation prompt.
When SingAlong gets installed onto your computer, it adds extensions to Mozilla Firefox, Google Chrome and Internet Explorer web browsers. To display the pop-ups when you access online shopping websites and other supported pages, SingAlong connects to gyp.javadriver.net and ndo.coreopti.net ad servers. It means that if SingAlong opens a new pop-up window for you, it is very likely that content domain would be one of the aforementioned servers.
Needless to say, that constant commercial pop-ups are extremely annoying and they do not allow you to surf the Internet properly. However, SingAlong ads may also prove to be dangerous, because adware is prone to being exploited by third parties for corrupted content distribution. Some security experts even claim that having something like SingAlong on your computer may lead to malware infection, but that is a rather far-fetched scenario.
Nevertheless, to protect your personal information and your system from potential exploitation and freeware onslaught, you ought to remove SingAlong right now. Since the application comes bundled with other programs, scan your PC with SpyHunter free scanner to see what other apps you need to uninstall. Finally, do not hesitate to get yourself a computer security tool that would ensure no similar applications enter your system again.
Uninstall SingAlong
Windows 8
Move mouse cursor to the bottom right of the screen.
Click Settings on Charm bar and go to Control Panel.
Select Uninstall a program and remove SingAlong.
Windows Vista & Windows 7
Click Start menu button and go to Control Panel.
Open Uninstall a program and remove SingAlong.
Windows XP
Open Start menu and navigate to Control Panel.
Select Add or remove programs and uninstall SingAlong.
In non-techie terms:
SingAlong is a potentially unwanted program. It is not very safe and you should not keep it on your computer. If you need any help removing SingAlong, please leave a comment below. You can also contact us any time you questions on your computer security. Make sure that such applications as SingAlong do not overstay in your system.