Do you know what SimpleMediaConverter is?
SimpleMediaConverter is not as simple as it appears to be. It is a video file converter which seems to work but the quality of the conversions is not that great and it might show commercial advertisements. So you might want to remove this program and start searching for a better alternative. SimpleMediaConverter has been classified as a potentially unwanted program, because it can display advertisements of unknown origin and is bound to leave junk files after its removal. This program is not an infection itself, but its ads may be misleading.
This program's website is also misleading because it claims that SimpleMediaConverter is a all in one video and audio converter. But after downloading this program from the website, our researchers only saw video formats — there were not audio files to speak of. This program can convert supports 7 formats that have their own distinctive presets. Again, the website claims that it supports the currently popular .MKV format, but it is no where do be found. This is just one example out of several misleading claims.
While testing this programs, our researchers found that it works, but does not work all that well. As opposed to well-known video converters that take time to convert a file, this application converts very fast. But the quality suffers dearly. And in once instance it failed to convert a MP4 file to a MPEG. The converted file got corrupted and could not be opened by the Window Media Player. We tested the free ad-supported version, so if the paid version is anything like the free one, then it is really not worth the money. It costs $9.99 USD, which is not a lot for a good program, but too much for a converter such as SimpleMediaConverter.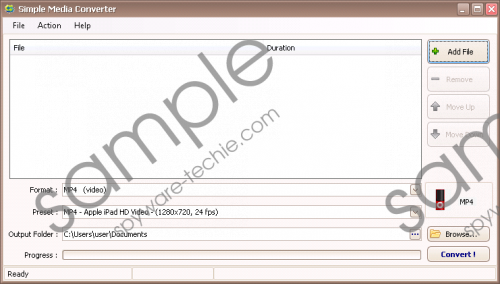 SimpleMediaConverter screenshot
Scroll down for full removal instructions
Another thing we want to talk about is the fact that it has the ability to display commercial advertisements. Our researchers did not see any ads while they were testing it, but it is stated right there in this program's End User License Agreement. It can display pop-ups, pop-unders, and in-text advertisements. The ads are not displayed just for fun. The developers might make money by promoting other potentially unwanted programs and adware. So in the worst case scenario your computer can become littered with adware and PUPs.
SimpleMediaConverter was released by an unknown developer which makes this program even more suspicious, because when a developer refuses to be linked with its product, then something is not right. As far as we know, this converter is distributed exclusively on its dedicated website at Simplemediaconverter.com. It may be bundled with other programs in the future, but since it is not an entirely new program, the possibility of this happening is rather slim.
In conclusion, SimpleMediaConverter works it not as expected and it is a bit misleading. Its developers claim that it can convert audio files, but our research shows that it does not have this feature (at least not yet). The conversion quality is rather poor and the files are likely to be corrupted and unusable. Displaying ads does not do it any favors, because they can be misleading. However buying the application to avoid them is not the answer, and we suggest removing SimpleMediaConverter altogether.
How to uninstall SimpleMediaConverter the your PC
Windows 10
Right-click on the Start menu.
Click Control Panel and go to Uninstall a program.
Identify SimpleMediaConverter and double-click on it.
Uninstall.
Windows 8/Windows 8.1
Once the Charm bar appears click Settings and go to Control Panel.
Click Uninstall a program and Identify SimpleMediaConverter.
Right-click on the program and click Uninstall.
Windows 7/Windows Vista
Open the Start menu.
Open Control Panel and select Uninstall a program.
Identify SimpleMediaConverter, right-click on it and click Uninstall.
Windows XP
Open the Start menu.
Open Control Panel and select Add or Remove Programs.
Identify SimpleMediaConverter and click Remove.
In non-techie terms:
SimpleMediaConverter is supposedly a video and audio converter that you can use for free. But there is a catch, the free version is ad-supported, and therefore, unreliable. Testing has shown that this program does not actually convert audio files — only video. And video conversion is not always successful. Therefore, this program is deemed potentially unwanted, so you should think about removing it and getting a better video and audio converter.