Do you know what Sigrun Ransomware is?
From what is known about Sigrun Ransomware, it looks like the malware could have been created by the same hackers who brought us GandCrab Ransomware. Our computer security specialists also suggest the malicious application could have been developed by cybercriminals from Russia since if the threat detects the targeted device is using a Russian keyboard it does not encrypt any data on it. As for users from other countries they might lose all of their personal data because of Sigrun Ransomware. The malware is programmed to lock all file types except executable files and data on a few specific directories. We will explain more about its effective manner as you continue reading this report and if you decide you want to get rid of this malicious application do not forget you can use the removal guide available below the main text.
Sigrun Ransomware might enter the computer via infected email attachments or unreliable files downloaded from the Internet. Therefore, it is not a surprise; computer security specialists advise avoiding data received from unknown senders or installers downloaded from torrent and other untrustworthy file-sharing web pages. Additionally, it would be wise to change weak passwords and update all outdated software so the computer would not have any vulnerabilities. As you see, some ransomware applications might enter the system after exploiting its weaknesses. This is why we would recommend strengthening it by installing a reputable antimalware tool of your choice too.
It seems if Sigrun Ransomware infects the computer, it should encrypt all file types except executable files in almost all directories available on the computer. As our researchers report, the malware does not lock any files located in these folders: %WINDIR%, %PROGRAMFILES%, %PROGRAMFILES(x86)%, and %ALLUSERSPROFILE%. It is easy to learn whether the file was or was not encrypted since the affected ones should have a second extension called .sigrun, for example, flowers.jpg.sigrun. Soon after all of the malicious applications targeted files get encrypted, it should place files called RESTORE-SIGRUN.html and RESTORE-SIGRUN.txt in every folder containing locked data.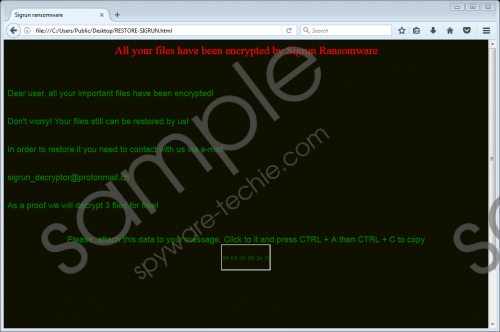 Sigrun Ransomware screenshot
Scroll down for full removal instructions
Both of the mentioned files display the same ransom note with a message saying the user should contact the cybercriminals who created Sigrun Ransomware via the provided email address. It also claims the hackers can guarantee they will restore user's data. Most likely, the reply letter would say they will unlock your data after you pay a ransom. Needless to say, whatever they do or say there cannot be any guarantees they will unlock encrypted files. For this reason, we advise our readers not to trust hackers and find other ways to restore their data, for example, with backup copies.
If you decide dealing with the cybercriminals behind Sigrun Ransomware would be too risky, and you do not want to gamble with your money we advise you get rid of the malware at once. The removal guide can explain to you how to delete it manually step by step. Those who do not think they are experienced enough could install a reputable antimalware tool instead. It might be the best option since such a tool could not only users erase the malicious application, but also guard their system against future threats.
Eliminate Sigrun Ransomware
Click Ctrl+Alt+Delete simultaneously.
Pick Task Manager.
Take a look at the Processes tab.
Search for a process related to this malicious program.
Select this process and press the End Task button.
Click Windows Key+E.
Navigate to the suggested paths:
%TEMP%
%USERPROFILE%Desktop
%USERPROFILE%Downloads
Find a file that was opened when the system got infected.
Right-click the malicious file and select Delete.
Erase all files titled RESTORE-SIGRUN.html and RESTORE-SIGRUN.txt.
Leave File Explorer.
Empty Recycle bin.
Restart the computer.
In non-techie terms:
Sigrun Ransomware is a threat that encrypts files on the infected computer to show a ransom note asking to contact the cybercriminals who created it. Typically, the hackers ask to pay for decryption tools in Bitcoins or other cryptocurrencies. In this case, they even suggest sending up to three files as a guarantee they will decrypt user's data, but the truth is even if the three samples you provide get to be decrypted that still does not guarantee the malware's creators will deliver the decryptor. It only shows they have such a tool. Unfortunately, despite their promises, these people could scam you, and you may lose the money you transferred in vain. Thus, if you are not willing to take such a risk, you should delete the malicious application instead of putting up with the demands. To erase it manually you should follow the removal guide available below. On the other hand, users who prefer automatic features could acquire a reputable antimalware tool and let it deal with the threat instead.