Do you know what SideTab is?
SideTab is a model adware because it has all of the things that most adware usually have. Our malware analysts say that it is an intrusive program that you ought to remove as soon as you can. They also think that this program can put your computer's security in jeopardy because the advertisements can come from various illegitimate sources and even reliable-looking ads can redirect you to websites that feature malicious content. Our researchers have also noted that it might collect information about your browsing habits to tailor the advertising campaign.
SideTab is a Korean-made adware, and it has been tailored for the Korean locale, so it is unlikely that you can get it outside of this country. Nevertheless, odder things have happened, and this adware may find its way on your computer if you download software from third-party software distributing sites. Our malware researchers have received information that this program can come bundled with malicious software installers. The application this adware comes with may be legitimate and safe to use, but the third-party installer used to bundle these two applications may not provide you with the opportunity to deselect SideTab and install it without your approval. Nevertheless, some installers might allow you to remove it from the setup, and we very much encourage you to do so to keep your computer out of harm's way. Furthermore, this application has a dedicated distribution website at Softinside.co.kr, but it is unknown because it is not promoted.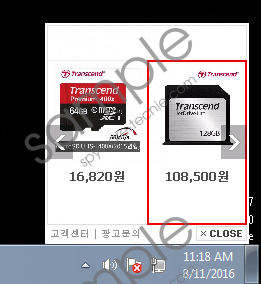 SideTab screenshot
Scroll down for full removal instructions
This adware is installed as an application and it is difficult to identify because it is named as Inside Tool in Control Panel. Its publisher's name is NBIZ which is probably fake as we have not found any information about such a publisher after extensive research. This program is deceptively called Inside Tool so that you would not identify and uninstall it because its developers and their partners make money from advertising revenue. SideTab displays coupons on the lower-left side of the screen — not inside the web browser. You can close the coupon, but it will reappear after a while. This program can promote all kinds of content that can range from computer parts and peripherals to SD cards. For the time being, this adware is focused on advertising computer technology-related products. However, we want to stress that some of the websites it can promote can be illegitimate and scam you. Indeed, fake online shopping websites can still be found, and they are often difficult to discern from real sites.
Many adware-type programs are set to gather information about the user's browsing preferences to customize and personalize the advertising campaign to make more money. So the information that this program is most likely to collect should include your IP address, browsing history, search queries, browser information, operating system type, and so on. This information may not look like much, but it is definitely sufficient to make you want to click its presented coupons. However, given that this program comes from an unknown developer, it is entirely possible that it will make arrangements with questionable advertisers to promote questionable websites.
We are of the opinion that SideTab has to be removed. It will not improve your browsing experience whatsoever and might even do the contrary. There is no way of knowing whether its coupons are safe to click and if they are not, then it will put your computer's security and your personal privacy at risk. Our researchers say that you should uninstall it via Control Panel. It leaves no junk files behind, and you will not have to view shady ads.
Uninstall via Control Panel
Windows 10
Hold down Windows+X keys.
Open Programs and Features.
Locate Inside Tool double-click on it and Uninstall it.
Windows 8/Window 8.1
Hold down Windows+X keys.
Open the Control Panel and click Uninstall a program.
Locate Inside Tool right-click it.
Click Uninstall.
Windows Vista/Windows 7
Open the Start menu.
Click Control Panel.
Select Uninstall a program.
Locate Inside Tool and right-click it.
Uninstall the infection.
Windows XP
Open the Start menu.
Click Control Panel.
Select Add or Remove Programs.
Locate Inside Tool and click Remove.
In non-techie terms:
SideTab is a Korean-made adware that is set to show you promotional links in its search results. Not only are its ads unwelcome and intrusive, but they can also be malicious as this program was created by an unknown company. The developers may be inclined to strike a deal with shady advertisers and promote fake online shopping websites that extort money. So do not hesitate and delete this program.