Do you know what Sidebar Dock is?
Sidebar Dock is an "advanced desktop window based docking station" that could give you quick access to your favorite websites, applications, and more; however, it does not. Once you install this rather suspicious application, you realize that there is no sidebar whatsoever, but, instead, you may have another useless and potentially harmful program installed called BoBrowser. Since Sidebar Dock has shown a couple of questionable functionalities when it was tested by our researchers in our internal lab, it has been categorized as a potentially unwanted program or PUP. Instead of displaying a fully customizable sidebar, in fact, this PUP may show third-party ads, not to mention that it is also possible that it brings on-board malware infections as well. All in all, you had better delete Sidebar Dock from your computer before you have to face more serious threats.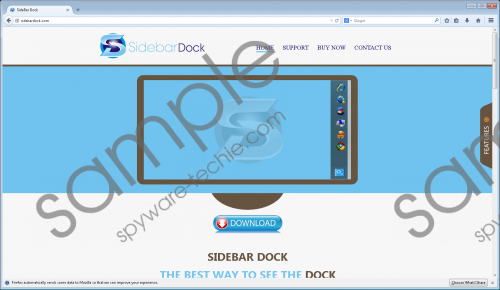 Sidebar Dock screenshot
Scroll down for full removal instructions
Sidebar Dock pretends to be a useful drag and drop bar but, as a matter of fact, it does nothing beneficial for you. It does not even display the alleged bar. However, it can collect data about you, including personally identifiable information that might land in the wrong "hands." This is what the EULA reveals about you precious details:
ClaraLabs may sell, transfer or otherwise share some or all of its assets, including your Personal Information...
Does that make you feel safe? Do you know what might happen if cyber criminals get hold of your personal details? Have you heard of online scams? But the collected information may also be used to provide you with tailored commercials and advertisements. Since third-party ads can never be trusted, we advise you to refrain from clicking on them. Malware infections and online scams might be a single click away. We hope you see that your computer would be much safer if you removed Sidebar Dock.
This PUP has an official site at sidebardock.com; however, we think it is more likely that you get infected with Sidebar Dock via freeware bundles. These software packages this PUP travels in may contain malware programs. Most people infect their computers by visiting suspicious file-sharing and torrent websites and click on false download buttons and links. When they install the package they do not pay attention to the option where they can actually opt out of installing unwanted components. That is how most users allow infections onto their computers. In such a situation, deleting Sidebar Dock will not help; you will have to check your PC for other threats and eliminate them all. That is the only way to restore security.
You are clearly better off without this PUP, and this is just confirmed by the way Sidebar Dock "says goodbye" once you finally uninstall it via Control Panel. Bobrowser launches and displays a page about your uninstallation; however, there is a misleading third-party ad right in the middle of the page. This ad is the kind that tries to trick you into downloading some software update that you "urgently need." We advise you not to even think about clicking on that as you might be redirected to an unreliable website. It kind of feels like this application haunts you after its "death." If you want to be certain that your computer is all secure, you also need to remove Bobrowser and all other infections that may be on-board.
Remove Sidebar Dock from Windows
Windows 10
Tap Win+I and open Control Panel.
Click Uninstall a program.
Select the program and click Uninstall.
Windows 8 & Windows 8.1
Tap Win+Q and type in control panel. Click OK.
Access Uninstall a program.
Select the program and click Uninstall.
Windows Vista & Windows 7
Press Win+R and enter control panel. Press OK.
Open Uninstall a program.
Select the program and click Uninstall.
Windows XP
Open the Start menu and select Control Panel.
Click Add or Remove Programs.
Select the program and click Remove.
In non-techie terms:
Sidebar Dock is a potentially unwanted program that is not a dangerous infection itself but this application does have certain functionalities that might cause you system security issues. The app does not even seem to work at all, apart from showing advertisements and installing other unwanted programs, such as BoBrowser. If you want to keep your system clean, you should delete Sidebar Dock as soon as possible. If you want to make sure that there is no other infection on-board, we recommend that you install a trustworthy malware removal application to automatically handle the security of your computer.