Do you know what Shurl0ckr Ransomware is?
Our team of researchers has detected a new ransomware-type infection Shurl0ckr Ransomware. It is one of those ransomware infections that can be created by anyone willing to pay "10% commission from paid ransoms" to its developer. Even though it is a new threat, there is not much new about it except for the fact that it might be able to bypass detection mechanisms cloud platforms (e.g. Google Drive) use. Since this infection might be created by anyone on https://kdvm5fd6tn6jsbwh.onion.to/, its infection rate might increase soon, so you should not leave your computer unprotected. Are you reading this article because you have already discovered Shurl0ckr Ransomware on your PC? You need to eliminate this nasty infection from your system right away. It cannot launch itself automatically on system startup like some other ransomware infections do, but you might launch it again yourself by opening the malicious file. This would, probably, result in more encrypted files. Do not let this happen! The Shurl0ckr Ransomware removal will not be something very complicated, but you should use our manual removal guide if you have never erased any serious malicious application from your computer.
If you ever get infected with Shurl0ckr Ransomware, you will find a bunch of files locked on your computer. It should encrypt all pictures, documents, videos, music, and other valuable files. They will all be marked by adding the .cypher extension next to original extensions they have, for example, picture.jpg will become picture.jpg.cypher. What else new you will notice after the successful entrance of this ransomware infection is a file HOW_TO_DECRYPT_FILES.html. It will be placed on your Desktop (%USERPROFILE%\Desktop). This file is a ransom note that will tell you what the reason you can no longer open your files is: "Your files have been encrypted!." Also, it explains to users how they can unlock their files. To get decryption software, users need to send a ransom in Bitcoin to the Bitcoin address indicated in the ransom note. The price of the decryption tool might vary from 0.01 BTC to 1 BTC (it depends on its creator's wishes). Purchasing the decryptor might be the only way to unlock those encrypted files, but, believe us, there is nothing smart about transferring money to cyber criminals. First, there are no guarantees that you will receive the tool from them. They might not even have it! Second, you will encourage crooks to continue developing ransomware infections for money extortion. You might encounter these new products yourself in the future.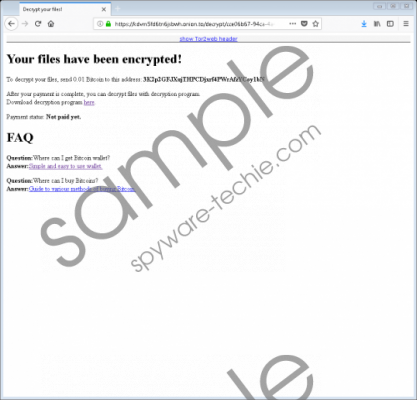 Shurl0ckr Ransomware screenshot
Scroll down for full removal instructions
Many users report that they do not know anything about the entrance of Shurl0ckr Ransomware, which suggests that this malicious application usually infiltrates users' computers without permission. Research conducted by our specialists has confirmed that. According to our malware researchers, Shurl0ckr Ransomware should be mainly distributed via the so-called drive-by-downloads. In addition, it might be spread via phishing emails. It does not mean that there is nothing users can do to protect their systems. They can prevent all kinds of malicious applications from entering their computers by simply enabling a trustworthy antimalware scanner on their computers. If it is too late for prevention, i.e. you have already encountered Shurl0ckr Ransomware, you need to delete this infection from your system fully as soon as possible. It is never a good idea to keep malware on the system.
Shurl0ckr Ransomware does not seem to be very sophisticated malware. That is, it does not create any entries in the system registry, it does not drop any additional files except for the ransom note, and it does not block system utilities, so you should not find its removal very complicated. All you need to do is to delete recently downloaded suspicious files in order to remove the malicious file you have launched. This can also be done quicker – you can perform a system scan with a reputable antimalware scanner instead. Unfortunately, it will not unlock a single file for you.
How to delete Shurl0ckr Ransomware
Open Explorer (tap Win+E).
Access %USERPROFILE%\Desktop, %USERPROFILE%\Downloads, and %TEMP%.
Inspect all files and delete suspicious files downloaded recently.
Remove HOW_TO_DECRYPT_FILES.html from %USERPROFILE%\Desktop.
Empty Trash.
In non-techie terms:
Shurl0ckr Ransomware is a nasty infection that might infiltrate your computer one day if you keep it unprotected. It is a harmful threat that only wants users' money, so it locks all personal files it finds on compromised machines right away. Then, it drops a ransom note demanding money. You need your files back, we know, but we cannot let you transfer money to cyber criminals because they might not give you anything in exchange. In such a case, you will lose your money next to your files.