Do you know what Shrug Ransomware is?
Shrug Ransomware will lock your personal files without mercy if it ever successfully infiltrates your computer. It will also threaten you to delete them from the system if the payment is not made within 3 days. Ransomware infections target the most valuable files, including documents, pictures, and other media files to push users into paying money, but you should not be one of those victims who transfer the required ransom even if you need your files back badly. You should not transfer a cent to cyber criminals because you do not know whether you could unlock your files. Additionally, the chances are high that your money will encourage them to develop and release new harmful infections that might cause a bunch of security-related problems to you in the future. You would not want to encounter new malware encrypting files again, would you?
Shrug Ransomware has been classified as a ransomware infection, but it slightly differs from typical crypto-malware in a sense that it not only encrypts files, but, as research has shown, it also locks the screen. Luckily, it can be unlocked by restarting the computer because it does not create a point of execution and thus cannot continue working after the system restart. Speaking about files this infection encrypts, it should lock a bunch of files in C:\. They all receive the .SHRUG extension, so it is not difficult to say which files have been encrypted on the affected computer. Shrug Ransomware does not drop any ransom notes once it locks victims' files, but it opens a window with a message for them. Users are told that they can get their files back for 50 USD. Victims need to send the required money in Bitcoin. The ransomware infection will delete those encrypted files if the payment is not received within 3 days; however, it could not do this if you delete it from your system first. Your files will not be unlocked even if you delete it fully, but you could restore them from a backup you have. You could also use a decryptor that can be downloaded from the web for free.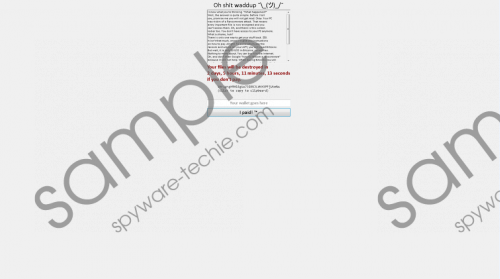 Shrug Ransomware screenshot
Scroll down for full removal instructions
No doubt you do not know how Shrug Ransomware has slithered onto your computer because this infection enters systems secretly. Most probably, you have helped it to enter the system by opening a malicious attachment from an email you have received because it is often distributed via malicious email campaigns. Our specialists say that it might also be dropped directly onto users' computers if they use Remote Desktop Protocol connections that can be hacked easily. Do not let a new harmful threat slither onto your computer – keep a security application enabled. Additionally, make sure your RDP credentials are secure. Last but not least, you should stop downloading software from random websites because you might download malware yourself. In other words, you have to quit your bad habits to prevent serious malware from entering your system in the future.
You must remove the ransomware infection you have encountered even though none of your files it has encrypted (as mentioned, they get the .SHRUG extension) will be unlocked. Shrug Ransomware creates an entry in the system registry, but you will delete it yourself manually without problems if you follow our removal guide. The ransomware infection can also be erased quicker with an automated malware remover. Of course, you will have to acquire it first. An automated malware remover will not unlock a single file for you too, but it will surely disable Shrug Ransomware.
Delete Shrug Ransomware
Restart your PC.
After the restart, press Win+R.
Type regedit and click OK.
Right-click on the registry key HKCU\Shrug and select Delete.
Close Registry Editor.
Tap Win+E to open Explorer.
Check your Desktop and the Downloads folder.
Remove recently downloaded suspicious files.
Empty Trash.
In non-techie terms:
Shrug Ransomware is a malicious application that will cause you a ton of problems if it enters your system because it encrypts personal files and, on top of that, locks the screen in order to obtain money from users. You should not pay money to cyber criminals because there are no guarantees that your files and your Desktop will be unlocked. You should focus on the removal of malware instead. The sooner it leaves your system, the better.