Do you know what ShoppingGid is?
ShoppingGid is a Russian adware application that mainly targets Russian-speaking users, but that does not mean it cannot affect your computer as well. ShoppingGid may not be your worst nightmare, but this application might well expose you to dangerous websites that are part of malware distribution networks. Thus, you cannot allow ShoppingGid to remain on your computer. Please follow the removal instructions below to delete ShoppingGid from your system, and do not forget to invest in a legitimate antispyware application to protect your computer from similar intruders.
One of the reasons we cannot say ShoppingGid is a dangerous infection is the fact that you can easily download the application from its official website. The app's homepage is located at shoppinggid.com, and there you can initiate the program download and installation by clicking the big yellow button.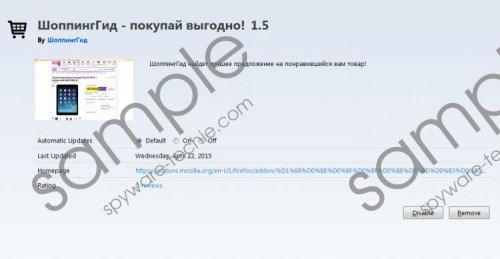 ShoppingGid screenshot
Scroll down for full removal instructions
Granted, the direct download is not the only way for adware applications to spread around. If you have not downloaded ShoppingGid from the main website, but the program is still running on your system, then chances are you downloaded and installed the application in a software bundle. If that is the case, ShoppingGid is not the only unnecessary application you need to remove from your computer. It is very likely that you have many unwanted programs on-board that could eventually expose you to corrupted content.
ShoppingGid says that it is a useful shopping guide (gid is Russian for "guide"), and it can find you the best price for the goods you are interested in. How does it manage to figure out what you are interested in? Simple: The application employs tracking cookies to collect information on your web browsing habits, and, when it has enough data collected, ShoppingGid generates a flow of custom commercial advertisements.
These pop-up ads are supposedly there to redirect you to online stores that offer the goods you want for a lower price. However, it is very likely that the ShoppingGid ads are often embedded with outgoing links to unreliable websites. We are not trying to say that ShoppingGid is there to infect you with malware, but you need to consider all the possibilities.
In short, if you want to keep your computer safe, you should remove ShoppingGid from the system at once. After manual removal via Control Panel, scan your computer with the SpyHunter free scanner to check for other potentially unwanted applications. You need to do everything you can to protect your system from harm.
How to Remove ShoppingGid
Windows 8 & Windows 8.1
Move the mouse cursor to the bottom right of your screen.
Click Settings on the Charm bar and go to Control Panel.
Open Uninstall a program and remove ShoppingGid.
Windows Vista & Windows 7
Click the Start menu and open Control Panel.
Select Uninstall a program and remove ShoppingGid.
Windows XP
Open the Start menu and navigate to Control Panel.
Open Add or remove programs and uninstall ShoppingGid.
In non-techie terms:
ShoppingGid is an annoying application that will spam you with commercial advertisements. The program could prove to be extremely dangerous if it gets exploited by cyber criminals, so you need to remove ShoppingGid as soon as possible. If you need any assistance with ensuring your system's stability, do not hesitate to leave us a comment below this description.