Do you know what ShoppingFever is?
ShoppingFever is a clone of ClickIt, CompareNBuy, Boomdeal, AllstarAdBlocker, and a ton of other programs naming which would take too much of your time. All clones are developed by unknown parties that use the infamous JustPlugit engine. Some of these programs have individual pages representing them, and you can find information regarding ShoppingFever at shoppingfevers.info. Of course, you should be careful about this information. The promotional text has been created to attract you, but what you should pay attention to is the Privacy Policy, the Terms of Use, and EULA documents. If you analyze these documents, it will become clear that deleting ShoppingFever is necessary. Our malware researchers have already analyzed this information and now can help you remove the adware.
We identify ShoppingFever as an advertisement-supported program (adware), because this application is all about helping online advertisers. It is even possible that the program has been created by advertisers to alleviate the process of displaying ads. Reliable adware servers charge a lot of money and screen the ads they are about to display. ShoppingFever and its clones, on the other hand, use unreliable adware servers, and this means that unreliable parties are likely to employ it. Misguiding ads could present fake installers, camouflaged bundled downloads, virtual scams, and other security threats. Do you want to face them? Of course you do not, and so the removal of ShoppingFever should not be postponed for any longer.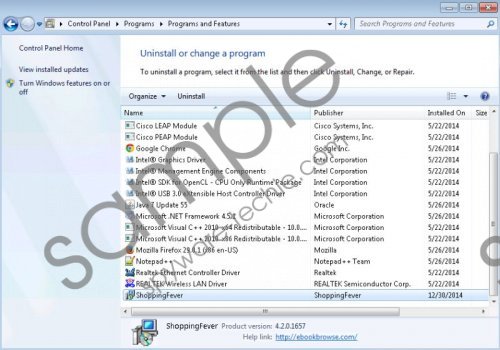 ShoppingFever screenshot
Scroll down for full removal instructions
You do not need to dread the removal of ShoppingFever, because there are tools that can help you. Reliable automatic malware removal software can detect and delete all malicious files, and all you need to do is install this software onto your PC. If you think that you will be investing your money for a one time removal service, you are completely wrong. If you select a reliable and up-to-date antimalware to delete ShoppingFever and the related threats, you will also ensure that your operating system receives full-time protection. Needless to say, this is the kind of software every operating system should be equipped with.
Delete ShoppingFever
Delete from Windows XP
Navigate to the left of the Taskbar and click the Start menu button.
Select Control Panel to open a menu with more options.
Go to Programs (or Programs and Features) and click Uninstall a program.
Double-click Add or Remove Programs.
Remove the undesirable application.
Delete from Windows 8.1/Windows 8/Windows 7/Windows Vista
Firstly launch RUN which you can do by simultaneously tapping the Win+R keys.
Enter Control Panel to open the menu.
Click Uninstall a program.
Locate the undesirable program, righ-click it, and select Uninstall.
In non-techie terms:
The manual ShoppingFever removal may be complicated and time-confusing, which is why we do not recommend it to computer users, unless they are experienced and they have the skills ensuring that the removal of the active infections is successful. Do you have these skills? If you do not, you can install automatic malware removal software to have ShoppingFever deleted from your operating system.