Do you know what Shopping Suggestion is?
Shopping Suggestion is a browser extension available from shoppingsuggestion.com. The application is compatible with Internet Explorer, Mozilla Firefox and Google Chrome web browsers which run on the operating Windows 7 system. If you have not downloaded the application from the official source, it could have entered the system packaged with other software. Note that the plugin itself could bundle freeware and adware, which is why you need to be careful when installing it onto the PC. In general, we recommend having Shopping Suggestion deleted, not installed. It is because after acquiring it, various suspicious online advertisements will be able to flood your browsers.
You might have already discovered all of the suspicious advertisements popping up on your screen if you have installed the add-on. Some of them could lure you into clicking and revealing allegedly useful saving deals. Others could offer to install various computer applications. Our researchers have discovered that you could be offered highly suspicious freeware as well. For example, you may be offered to install a malware scanner which later on would push you into spending money on some suspicious, supposedly legitimate malware detection and removal program. In some cases, the offers could be authentic and trustworthy; however, this is not a rule, and various unreliable offers could be promoted as well.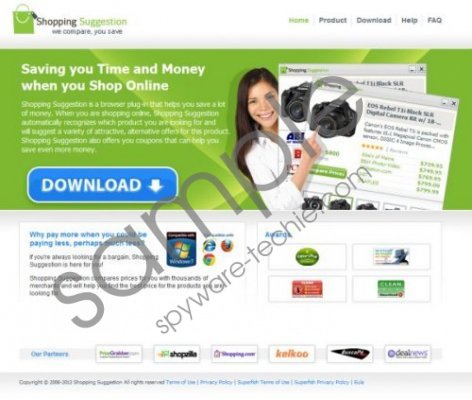 Shopping Suggestion screenshot
Scroll down for full removal instructions
As our researchers have discovered, Shopping Suggestion can access your data and manipulate installed applications or extensions. Do you want this happening? If you do not, we suggest having Shopping Suggestion removed from the system right away. You may have already performed the manual removal steps displayed below. Are the advertisements still showing up? In this case you certainly should entrust automatic malware detection and removal software to scan the system and delete the potentially remaining adware components which you did not remove manually.
Shopping Suggestion Removal
Remove from Google Chrome:
Open Chrome, simultaneously tap Alt+F, move to Tools and click Extensions.
Find the undesirable plugin, click the recycle bin icon and select Remove.
Remove from Internet Explorer:
Open Internet Explorer, simultaneously tap Alt+T and click Manage Add-ons.
Select Toolbars and Extensions and Disable the unwanted add-on. Click Close.
Remove from Mozilla Firefox:
Open Firefox and simultaneously tap Ctrl+Shift+A to open the Add-ons Manager.
From the appeared menu select Extensions and Remove/Disable the unwanted plugin.
In non-techie terms:
It is recommended that you delete Shopping Suggestion because this browser extension is linked to the online advertisements you may discover flooding your browsers. Since these advertisements are supported by unknown third parties, it is nearly impossible to tell what you could face after clicking on them. If you do not want to take the risk of getting redirected to corrupted sites, you certainly should follow the instructions above to get rid of the suspicious plugin. We also recommend installing a reliable Windows security tool which could protect your system in the future and delete any attacking threats.
Aliases: Shopping Suggestion virus.