Do you know what ShopperPro64.dll is?
ShopperPro64.dll is a component file of ShopperPro adware application. This DLL file is important for ShopperPro auto-run, and sometimes registry entries related to this file remain on your computer even after you remove ShopperPro. This may result in various error messages upon the system startup, but ShopperPro64.dll does not infect your computer with malware or signify any kind of serious system error. It simply shows that some adware components remain on your system, and to remove ShopperPro64.dll you need to acquire a licensed antimalware application that will take care of the issue automatically.
It should be pointed out that ShopperPro and similar adware applications do not enter your computer surreptitiously. It is very likely that you have downloaded it bundled with dealPly and other similar programs. At first sight ShopperPro may look like a useful browser extension that displays coupons and discount offers. As a result, the program makes an impression that it can help you save money whenever you shop online. Unfortunately, that is not exactly the case because ShopperPro has been designed to promote commercial content with intention to generate financial revenue. It is not an illegal activity, but it might expose you to corrupted content and even more adware.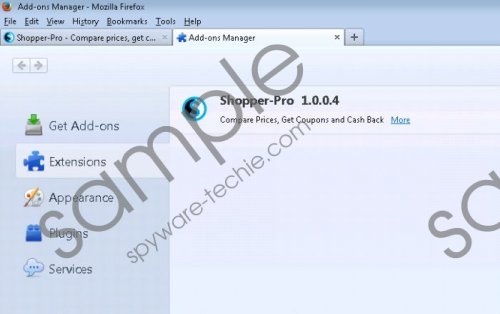 ShopperPro64.dll screenshot
Scroll down for full removal instructions
As far as ShopperPro64.dll is concerned, if users are complaining about it, it is most often because they see an error message on their screen which reads:
This process has failed to start because the ShopperPro64.dll configuration is incorrect.
It means that an auto-run key is trying to load ShopperPro automatically whenever you turn on your computer, but since the program is most probably uninstalled already, there is nothing to launch and thus the error message appears. It might be that the program is actually STILL on your computer, but something went wrong and it cannot be launched automatically.
Either way, you should run a full system scan again to check for any remaining ShopperPro files. Once the detection list is front of you, check out whether ShopperPro is the only issue you are facing, because it might be the case that there is more than just one potentially unwanted application on your computer.
If ShopperPro has not been removed properly, uninstall it once again to get rid of ShopperPro64.dll pop-up. After manual removal get yourself a powerful antispyware tool that will delete unnecessary Windows registry entries and safeguard your system against similar threats.
In case the ShopperPro64.dll error still appears, try out the instructions right below this description. And once again, when it comes to Windows Registry, it is best to make use of professional computer security tools.
Manual ShopperPro Removal
Windows 8
Move mouse cursor to the bottom right of the screen.
Wait for Charm bar to appear and then click Settings.
Go to Control Panel and select Uninstall a program.
Highlight Shopper-Pro and click Uninstall.
Windows Vista & Windows 7
Open Start menu and select Control Panel.
Go to Uninstall a program and remove Shopper-Pro.
Windows XP
Open Start menu and click Settings.
Go to Control Panel and select Add or remove programs.
Uninstall Shopper-Pro.
Remove ShopperPro from Google Chrome browser
Open your browser and press Alt+F.
Click Tools on drop-down menu and go to Extensions.
Remove ShopperPro from the list.
In non-techie terms:
ShopperPro64.dll is a DLL file that is necessary to auto-start ShopperPro adware extension. This program might expose you to potentially dangerous content, so it is necessary to remove ShopperPro and ShopperPro64.dll from your computer as soon as possible.