Do you know what ShopperPro is?
ShopperPro is a browser add-on which provides the user with search-based coupons, advertisements, and price comparison information. It is also known as Shopper-Pro is available at its official websites shopper-pro.com. The application is compatible with Internet Explorer, Google Chrome, and Mozilla Firefox, and it is enough to install it once to have it activated on all your browsers. Even though ShopperPro may seem a useful tool, we have categorized it as adware.
ShopperPro is not a seller. It does not sell goods or services, and the advertisements or discounts that you are provided with after installing the application do not belong to ShopperPro. All those coupons and price comparisons are provided by third parties. ShopperPro does not control the content of the websites and the pop-ups that you find when browsing the Internet. Thus, your interaction with the various offers is your own responsibility.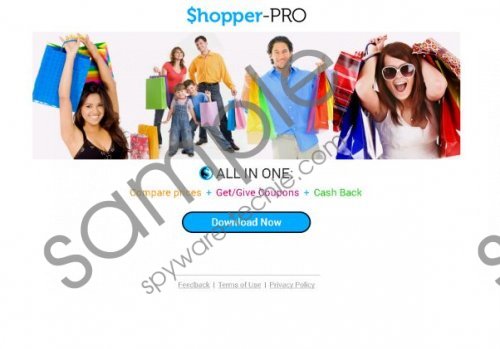 ShopperPro screenshot
Scroll down for full removal instructions
If you want to prevent advertisements and the adverse consequences that may follow your interaction with numerous websites, remove ShopperPro from the system. Unreliable websites may also be promoted with the help of ShopperPro, so you should not trust every single websites to which you are taken. First, you should make sure that you can trust the provider of services or goods and only when make purchases or orders if needed. Every website is likely to have its privacy policy, and when you click on the advertisement or coupon displayed by ShopperPro, you start interacting with that particular website. Moreover, ShopperPro is not responsible of pricing errors. And it does not take responsibility for the quality of the items that you are offered.
You may also notice that ShopperPro installs JollyWallet, another application which offers coupons and discounts. Since you cannot uninstall it because there is no uninstall component for it, you should use a spypware removal tool.
In order to display offers and deals that are relevant to your browsing interests, ShoppingPro monitors your actions. It may use cookies and other tracking techniques to record your search terms, clicks, the URLs of the websites that you access, the details of the operating system, and so on. Such information is very often used for marketing and advertising purposes, which means that the data acquired may be used for creating new targeted advertisements. But you can stop it. Remove ShopperPro from the computer and the browsers.
ShopperPro may be bundled with various free programs, and there are a lot of different programs that computer users should be aware of. In order to prevent those unwanted applications, implement a powerful spyware removal tool which is also capable of removing ShopperPro from the PC. We recommend that you implement SpyHunter because this application can eliminate the adware program in question and many other computer threats. Moreover, it can safeguard the system against spyware and malware attacks, so if you want to browse safely, take action right now.
How to remove ShopperPro
Windows Vista and Windows 7
Open the Start menu.
Click Control Panel.
Select Uninstall a program.
Remove the unwanted application.
Windows XP
Open the Start menu.
Click Control Panel.
Click Add or Remove programs and uninstall ShopperPro.
Windows 8
Press Win+R and type in control panel.
Click OK.
Select Uninstall a program and remove ShopperPro.
In non-techie terms:
ShopperPro is a free computer application which displays coupons and advertisements provided by third parties. It is categorized as adware and should be removed from the PC. Follow the instructions above or implement a reliable spyware removal tool.
Aliases: ShopperPro virus.